Meet Our Costa Mesa Dental Team
Dr. Joseph Yang, Periodontist
Dr. Joseph C. Yang has been practicing dentistry for over 20 years. Graduate of University of Illinois School of Dentistry and Oklahoma University of Health Sciences Center in Periodontics. He was on staff and was the former program director at Bethesda Naval Postgraduate dental school.
Board Certified Periodontist
He is a board certified specialist in Periodontics. He has performed thousands of periodontal and implant cases with great success. OC Dental Specialists
Lisa, Hygienist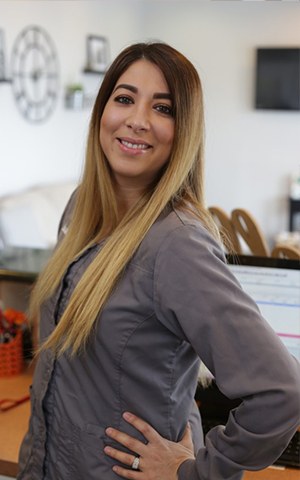 Lisa is an organized and dedicated dental professional with over 8 years of experience as a registered dental hygienist and a registered dental assistant. She has also dedicated many hours to volunteering in public dental hygiene services. She takes pride in counseling and motivating patients to achieve optimal oral health and has experience in all aspects of care, including patients with mental and physical disabilities. Even as a child, she always dreamed of becoming a dental hygienist. She takes pleasure in providing top-level care to her patients and believes smiles are contagious. When Lisa is not working, she enjoys spending quality time with her husband, Stefan, and their son, Ethan. They enjoy going to the beach, camping, and traveling.
Misty, Registered Dental Hygienist
Misty has been practicing dental hygiene for a little over two years now. Not only does she clean teeth, but she also helps educate patients on how to better care for their oral health. She has her Bachelor of Science Degree from West Coast University and also received research and leadership awards during the graduation ceremony. She loves working for a practice that allows her to use every strength she has to give patients the best treatment possible. She spends lots of time laughing during work – a day without laughing is a day wasted!
In her free time, Misty enjoys scrapbooking, playing piano, paddle boarding with her puppy, and having game nights with friends. She also loves throwing themed parties and using Pinterest for décor and game ideas. She hopes to become more involved with her community and start traveling soon
Kim - Registered Dental Hygienist
Kim has been practicing in promoting oral health care for over two years now. She excels in patient care, have a positive attitude, and capable of blending in with current team members. She graduated from West Coast University with the degree Bachelor of Dental Hygiene. With experience as a dental hygienist, she has worked with patients in all stages of life. Kim loves what she do as a dental hygienist and works incredibly well with patients. Not only cleaning teeth, she believes it is significant to build a relationship with patients while earning their trusts as a fun-loving reliable hygienist. As a hygienist, she acknowledges the fact that knowledge in modern technology is an imperative quality for a successful hygienist in her current practice. In her free time, Kim enjoys staying home catching up on her favorite shows on Netflix. She also likes spending her free time with her boyfriend, friends, and family going to different places to eat.
Jayme, Lead Dental Assistant
Jayme is our fabulous dental assistant. With over 15 years of experience, she uses her knowledge to make our office a warm and caring place. She enjoys building relationships with all of our patients. In her spare time, she enjoys being with her family and friends.
Angeliki
Bio coming soon!
Jennifer, Intern
My name is Jennifer Alvarado, I am 22 years old, and I am the eager to learn intern of Advanced Dental Care of Costa Mesa. I am currently attending California State University, Fullerton as a Pre-Dental student majoring in Biochemistry. I am involved in school clubs like the Student Pre-Health Association and the Pre-Dental Society. My career goal is to become a Dentist and I plan to work as hard as possible to reach it. I want to be a Dentist who is involved in her community, always teaching people about oral health and inspiring everyone to do the best they can in order to keep their teeth, gums, and self-healthy. I want to provide people with the necessary information and tools to stop making excuses for neglecting their oral health. I plan to help influence people around me to make better health decisions and even though it may take years to become a reality, I will continue working as hard as I can each day. I am focused on my goals and I know that no matter how long it may take I will one day be able to help my community as a dentist.