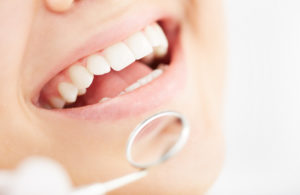 Have you ever wondered why you need to have your teeth professionally cleaned?  Seeing your dentist regularly is important for many reasons, but professional cleanings are essential to maintaining good oral hygiene.  Check out what our patients have to say about us!
What is a Dental Cleaning?
A dental cleaning is a procedure that removes plaque and tartar from our teeth.  Plaque is a biofilm and the byproduct of bacteria.  These bacteria break down food and drink causing a sticky film to grow on the surface of teeth.  When plaque hardens over time, it turns into tartar.  Tartar is much more difficult to remove with at-home cleaning and once it starts to build-up around the gum line can cause bleeding and tooth decay.
A professional cleaning uses special instruments to remove the plaque and tartar allowing your gums and teeth to be free of havoc-wreaking bacteria buildups.  However, a dental cleaning at Advanced Dental Care in Costa Mesa is much more than that.
The Exam
When you visit your dentist for a dental cleaning, the procedure is most often performed by a Registered Dental Hygienist (RDH).  The RDH will perform an examination complete with photographs, x-rays, probing and charting.
Examination

Obtain medical history, learn more about you as a patient, and brushing and flossing habits.
Visual inspection for redness, swelling, bleeding, and plaque and tartar.
Assess your bite, the condition and shape of the tongue, the condition of the palate and throat, and alignment of your teeth.
Evaluate for areas of potential decay, malocclusion (misaligned teeth), sleep apnea, and oral cancers.

 Photographs

Keep a visual record of your teeth both from outside of your mouth and of the inside of your mouth.
Photos are also easier for the patient to see compared to x-rays.

X-Rays

Digital radiographs of the tooth, changes in density under the surface, the tooth root, and surrounding bone.
Helps detect decay, infection, bone less, and physical abnormalities.

Probing

Uses a dental probe to measure depth of space between the gum line and where the gum attaches to the tooth, gingival margins, plaque levels, bleeding, and furcation (bone loss).

Charting

Documents health and condition of your gums.
The Cleaning
Once the initial exam is complete, the RDH will determine what type of dental cleaning you require.  Depending on the condition of your gums and teeth, your RDH might recommend one of the following:
Prophylaxis

also known as a regular cleaning
appropriate for healthy gums with pocket depths between 1-3mm
no to minimal bleeding when flossing or probing
usually covered 100% by dental insurance (varies by individual plans) – No insurance? Click here!

Full-Mouth Debridement

performed when plaque and tartar build-up is too extensive to accurately measure probing depths
removes the bulk of the plaque on the outside of the teeth
followed by Scaling and Root Planing or a Prophylaxis
can be covered by dental insurance under Periodontics – No dental insurance? Click here!

Scaling and Root Planing

also known as a deep cleaning or SRP
can be localized to a few teeth or up to the entire mouth
patient is usually numbed with local anesthetic
scaling removes plaque and tartar (hardened plaque) from the entire tooth, both above and below the gum line using an either a hand scaler, an ultrasonic scaler, or both
planing uses a tool to smooth the surface of the tooth root reducing the chance to harbor bacteria
can be covered by dental insurance under Periodontics – No dental insurance? Click here!

Periodontal Maintenance

this is the maintenance cleaning performed after a SRP
usually performed every 3-4 months
helps ensure that plaque and tartar do not build-up to damaging levels
can be covered by dental insurance under Periodontics – No dental insurance? Click here!
Gold Standard Treatments
At Advanced Dental Care, our focus is on keeping you in the best shape possible!  We consider a dental cleaning as the standard treatments, and not the "gold standard" as some refer to it as.  Our gold standard of treatment includes providing the best and most advanced treatment to ensure the most effective results.  Your RDH may also recommend one of these treatments in addition to your cleaning:
after the cleaning, the RDH will use a laser diode to zap any remaining bacteria in or around the gums
leads to more effective reduction of bacteria than scaling alone
can help speed healing process
only takes 5-10 minutes to perform

Oral Irrigation

a liquid medication that promotes gum healing and helps the gums adhere back to the teeth to reduce pocket depths and eliminate places for bacteria to hide
takes 1-3 minutes to perform

Fluoride

fluoride varnish is applied to the surface of the teeth to protect the enamel from plaque and tartar action
can be used on children and adult teeth

Prescription Rinses

we also offer a variety of medicated oral rinses to help keep bacteria at more manageable levels and speed the healing process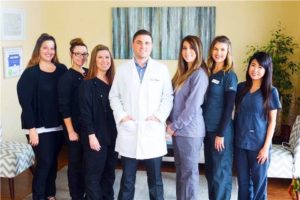 We're always accepting New Patients and Dr. Jorgenson and his team can't wait to meet you!  We value our time with patients as dental cleaning and they aren't just "routine" to us.  Each visit is as special as the patient and we love getting to know more about you, your family and friends, and how we can help you lead the healthiest life possible.  Schedule your dental cleaning today at Advanced Dental Care in Costa Mesa, CA!  Get Directions!
Call/text us at (714) 424-9099, on our website at www.mycostamesadentist.com where you can choose your appointment day and time or live chat us or send us a message, by email at info@mycostamesadentist.com, or through our social media accounts.