Emergency Dental Care in Costa Mesa
Have a broken tooth?  Often times patients do not come to see their dentist unless a dental condition has become urgent and painful!  By the time a patient is experiencing acute, sharp, throbbing pain, the condition is not so cute.  Whether you just broke a tooth or have had a broken tooth for some time, it is best to see your dentist ASAP!
How and why do teeth break?
Teeth can break for a variety of reasons, including physical injury, biting into a hard or tough piece of food, decay that weakens the tooth enamel.  They can chip, crack, or fracture, damaging one or more layers of the tooth, and break above, at, or below the gum line.  Fractures of the tooth root, which are not visible to the eye, are also serious and consequently damage the blood vessels and nerves that supply the tooth.  Lastly, your tooth can become loosened or displaced from their socket.
Can a broken tooth be saved?
Depending on the severity of damage to the tooth and its root and how fast you act, your dentist has more opportunities to save your tooth!  Surface chips and cracks can most often be fixed with fillings or bonding.  Cracks or fractures that extend beyond the gum line, can be more difficult to repair, requiring a root canal and/or dental crown.
Infections in decayed or broken teeth can spread to the surrounding gum tissue, jaw bone, and can even become systemic.  Your dentist can treat the infection and may be able to repair the tooth, however, some infected teeth cannot be saved.  Teeth that have lost blood and nerve supply, necrosis, are usually recommended to remove.
If the tooth cannot be saved, don't worry!  There are many tooth replacement options available to restore your smile to its full function and aesthetic.  At Advanced Dental Care in Costa Mesa, we offer personalized treatment to your condition and budget, including dental implants, several types of dental bridges, crowns, and dentures.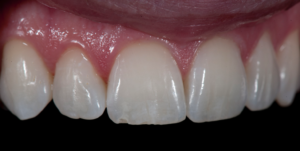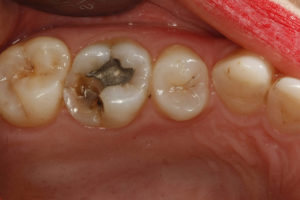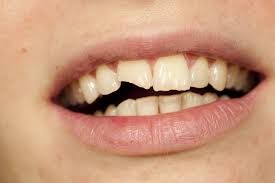 When to see your dentist?
Physical trauma or injury to your face or head or excessive bleeding, swelling, or pain are serious.  Please get emergency care immediately!  When you take swift action, injuries resulting from trauma have the best chance for recovery.  In addition, swelling, extreme pain, redness, and heat, can all be signs of a serious infection.
A tooth with a large chip, crack, or break at or near the gum line, may not bleed or swell, but be very painful.  The biggest risks associated with large or deep cracks/chips is damage to the nerve and blood supply and infection.  Call your dentist as soon as possible to get in for emergency dental care!
You may not notice when you have small chips or fractures, while other chips might be sharp or jagged.  Sharp or jagged chips cause irritation to your tongue and cheeks.  You should still see your dentist as soon as possible, even if you are not currently experiencing pain.  Small cracks and chips can expose the inner layers of your teeth leaving them susceptible to decay, infection, and further breakage.
Call now for your free consultation with Dr. Jeremy Jorgenson at our Costa Mesa dentist office. We are available by phone at (714) 424-9099 anytime or visit us online at www.mycostamesadentist.com.  In addition, we are in network with all PPO dental insurances!  No dental insurance? No problem!  We also offer our own plan with no maximum or deductibles, and most importantly, you can sign up today!.
Save
Save
Save
Save
Save
Save
Save
Save
Save
Save