Perfect Day – Perfect Smile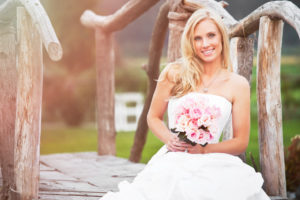 Of course there is nothing more important than the love you commit to on your wedding day, but the memories of your wedding day will be memorialized in your wedding photos and video forever.  You'll want to look your best on the most important day of your life and forever in your photos.  What's in and what's out – hair, makeup, wedding dress styles – those fashions change all the time, but one thing that never goes out of style is a healthy, beautiful smile!
So what options do you have to help perfect your smile?  Depending on how much time you have until the big day and your desired outcomes, you may have a variety of treatment options.  We offer complimentary cosmetic dentistry consultations at our Costa Mesa dental office.
At the consultation, you will meet with Dr. Jeremy Jorgenson to discuss how to best improve your smile and how much time you have.  Then, our treatment coordinator will put together a custom treatment plan based on our recommended treatment and your budget.
Crown Lengthening
Gingivectomy
       
You may be thinking that you can't afford to have a beautiful smile, but we offer both financial and treatment options for every budget including 0% interest or low monthly repayment plans with our partners at Care Credit and Wells Fargo.  We can also arrange an in-office payment plan if approved.
Call/text (714) 424-9099 or email us at info@mycostamesadentist.com to schedule your free consultation and say "I DO" to a gorgeous, happy smile today!