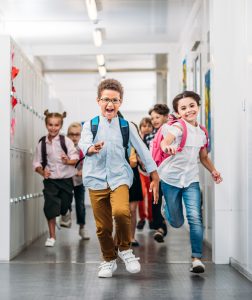 Smile Smart Tips for Success!
Going back-to-school is bittersweet for both parents and students.  No one wants summer to end, but students enjoy going back to school to see their friends again, getting back into school sports, and moving one step closer to graduation!
Even though going back-to-school is an exciting time, students can experience anxiety.  Anxiety can interfere with sleep, wellness, and performance.  But don't worry!  We've compiled some smile smart tips to help you smoothly transition back into the school year.
Smile Smart Tip # 1
Of course our first tip is to complete your dental exam and x-rays, and cleaning, before school starts.  These services are often covered at 100% by dental insurance.  Nothing can distract students more than throbbing, achy tooth pain that requires an emergency dental visit. Make sure your dental health is an A+ for academic success!
Smile Smart Tip # 2
Our second tip is to get enough sleep.  The Center for Disease Control (CDC) recommends:
9-12 hours for school-age children
8-10 hours for teens
7 or more hours for adults
Not getting restful sleep?  Schedule a consultation for Sleep Apnea or Bruxism.  A custom sleep device to treat sleep apnea can improve sleep quality and reduce chances for heart disease or stroke.  A custom nightguard to prevent grinding that can cause poor sleep, headaches, and aggrevated TMJ.
Smile Smart Tip # 3
Our third tip is to choose healthy food and drinks to feel your best and keep your teeth strong and healthy.  Avoid drinks with color additives, sugar, carbonation, or acid to protect against decay and erosion.  Choose foods with calcium, minerals like cheese, yogurt, almonds, leafy greens, and carrots.
Smile Smart Tip # 4
Our fourth tip is to protect your smile during school sports.  An injury can cause broken teeth, dead teeth, and even permanent tooth loss.  Consider a custom athletic mouthguard for school sports in your school colors!
Smile Smart Tip # 5
Brush and floss for at least 2 minutes twice a day to maintain good oral hygiene between dental visits.  Choose a soft bristled toothbrush making circular motions at a 45 degree angle and waxed floss or flosser picks to get the areas in between teeth where your toothbrush can't reach.
For more information on these smile smart tips or to schedule an appointment, please call/text us at (714) 424-9099 or you can schedule online, send email, or live chat us at www.mycostamesadentist.com.
Advanced Dental Care is proudly owned by Dr. Jeremy B. Jorgenson and provides family and cosmetic dentistry in Costa Mesa, Newport Beach, Huntington Beach, Irvine, Tustin, Santa Ana, Anaheim, Long Beach, and Orange County.  Call today!