Hate going to the dentist?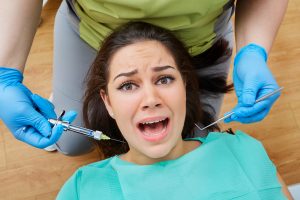 For some people, going to the dentist is right up there with getting a colonoscopy, a prostate exam, a Pap smear (need I go on?). If you hate going to the dentist, take a deep breath, we're here to help.
According to the Colgate website, "Dental anxiety and phobia are extremely common. It has been estimated that 9% to 15% of Americans avoid seeing the dentist because of anxiety and fear. That's about 30 million to 40 million people. In a survey by the British Dental Health Foundation, 36% of those who didn't see a dentist regularly said that fear was the main reason."
Common Dental Fears:
Pain
Sound of Dental Tools
Needles
Embarrassment
Lack of Control
Sometimes patients hate going to the dentist as a result of one bad experience and sometimes it's just a general fear.  The fear becomes a problem when patients avoid the dentist because of their fear.  Patients with dental phobia or dental fear who avoid the dentist often end up with painful, urgent dental conditions that require more serious treatment like fillings, dental crowns, root canals, extractions, etc.
Overcoming your Dental Fears
If you're reading this and thinking, "I still hate going to the dentist", than you've come to the right place. Whether you have a fear of needles or just the thought of a dental drill makes your skin crawl, we understand that the fear is real and we want you to know that we are here to help!
There's no need to be ashamed or worried, we totally get it. We've heard it all and have been told how much dentists are disliked more times than we'd like to recount. That's why we strive to make each and every visit to our Costa Mesa dental office as enjoyable as possible.
Gentle Dentistry in Costa Mesa
Great News! You no longer have to dread going to the dentist.  At Advanced Dental Care, we go the extra mile to ensure you have a positive, successful experience every time you visit us.  We pride ourselves on continual improvement to provide you with: