Read this article to learn more about this amazing Invisalign makeover!
By Dr. Jeremy B. Jorgenson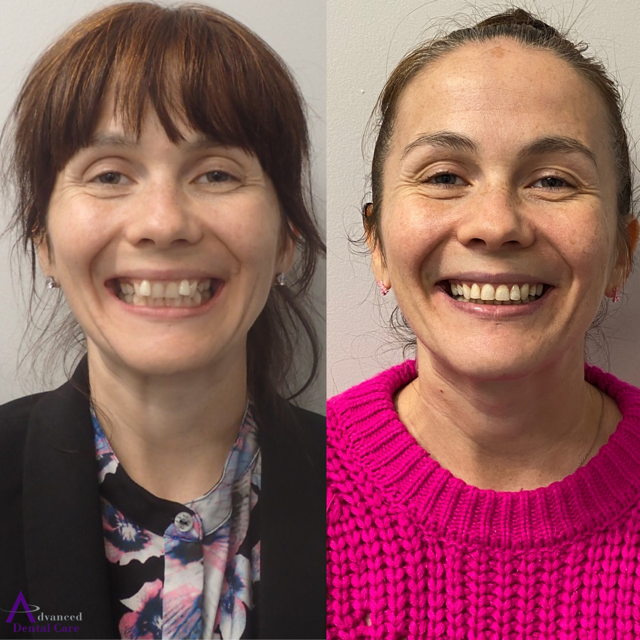 We love Invisalign for more reasons that we can count. It may be because almost all of us here at Advanced Dental Care have undergone the treatment and been amazed by the results or because we have witnessed first hand how many smiles have been transformed by this clear and easy-to-use technology.
This patient chose Dr. Jeremy Jorgenson for her Invisalign makeover, because he is a Gold Plus Invisalign provider with hundreds of hours of training and casework. At the initial consult, the patient discussed her concerns about the look of her smile with Dr. Jorgenson. Not only were there aesthetic concerns, but Dr. Jorgenson also determined she was experiencing both severe crowding and slight overbite which also affect the health of the smile. Our staff performed an iTero digital scan and let the patient know we could correct it all in a little over a year. The patient was ecstatic and wanted to move forward right away.
BEFORE
Before getting stated with the Invisalign treatment, Dr. Jorgenson needed to ensure there would be enough space for the teeth once they were properly aligned. He removed one tooth on each side of the upper arch. Once that tooth removal procedure was completed, the patient was ready to start her trays.
At her first treatment visit, Dr. Jorgenson placed attachments on the teeth to assist with moving the teeth correctly, made sure the initial trays fit properly, and gave instructions on wear. Invisalign trays need to be worn for approximately 22 hours a day and only removed for eating and brushing/flossing to ensure the best results in a timely manner.
The patient started with 2-week wear, switching to the next set of trays in her prescription every 2 weeks. With great on-track results at each subsequent visit, Dr. Jorgenson switched her to 1-week wear. She also chose to use Propel to speed up the process.
In about 15 months, she was finished with treatment and now has an absolutely gorgeous, straight smile she can be proud of! We are so thankful to have been a part of her Invisalign journey.
After
---
Schedule your FREE Invisalign consultation and iTero digital scan today! Call or text us at (714) 424-9099 or click on the "Book Appointment Now" on the top right corner of this page.
Want to know more? Check out these great videos
Advanced Dental Care is located a 3033 Bristol St. Ste. AA, Costa Mesa, CA 92626. Contact one of our friendly and knowledgeable team members today!