Giving, volunteering, and donating are all things our family dentist, Dr. Jeremy Jorgenson, and our team do year-round, but these things are extra special to us during the holidays.  Perhaps it's because we know how tough the holidays can be for those who are less fortunate or don't have family or friends surrounding them. That's why it is more important than ever to spread our love and kindness and smiles!  One organization that we partner with is the Child Abuse Prevention Center of OC and their Families Helping Families initiative.  Each year we adopt a family that have been victims of domestic abuse or neglect.
The Adkins Family
This year our team has graciously adopted The Adkins Family.  Jen is a single mother of FIVE kids!  She has 4 boys from ages 7-19 and one girl who is 11.  The Adkins really need our help this year and have asked for just basic items such as clothing, shoes, and personal hygiene products.  The families greatest wishes are to be able to spend time together doing activities in OC or just getting to share a meal together.
You can read more about the family and their individual wants and needs here: http://familieshelpingfamiliesoc.org/fhf/product/adkins-family-2/
We hope you can join our  Costa Mesa Family Dentist  in making the Adkins Family Christmas the best one yet!  All donations must be dropped off to our office no later than Saturday, December 8th at 12:00pm.  Please do not wrap the items as we are required to compile a list of things we are donating.  See our Facebook event for more information.
Thank you in advance and Happy Holidays to all!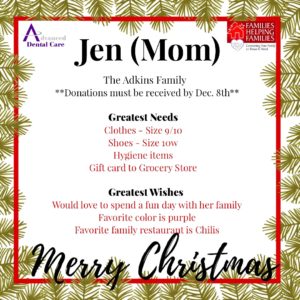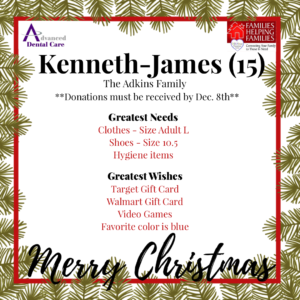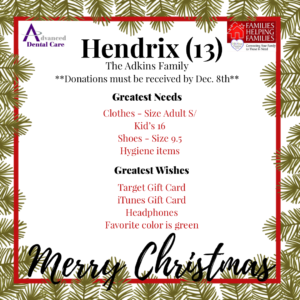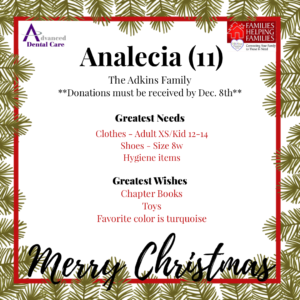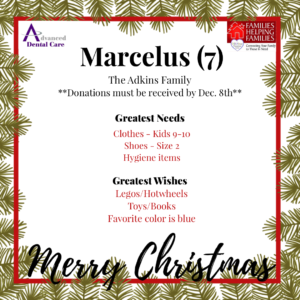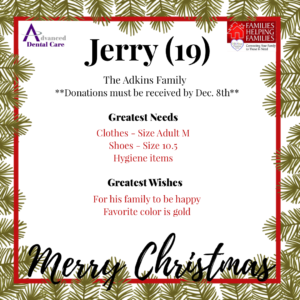 Advanced Dental Care is owned by Dr. Jeremy Jorgenson, a family dentist in Costa Mesa, CA.  Dr. Jorgenson loves seeing family members of all ages and specializes in restorative and cosmetic dentistry.  For more information, please call anytime at (714) 424-9099 or chat live with one of our knowledgeable team members at www.mycostamesadentist.com!