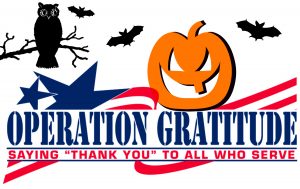 What's better than having your Halloween candy and helping our troops too? Getting Paid! We've partnered with Operation Gratitude again to host our 4th annual Halloween Candy Buy Back to help say "Thank You" to our troops.  It's so simple –  sell us your extra Halloween candy and we'll pay $1/lb to take it off your hands.  Operation Gratitude will take it from there.
Who is Operation Gratitude?
Operation Gratitude is a wonderful organization that supports troops through various programs, including sending care packages to our troops overseas.  The Operation Gratitude team will send your candy and any other personal items you'd like to give in personalized packages.  We strongly encourage any personal letters or cards to put in words how much you appreciate their service to our country!
And don't worry, we'll be donating toothbrushes and toothpaste to help keep their smiles healthy after enjoying your sweet treats.
Where do I drop off my candy?
Bring your extra Halloween candy to Advanced Dental Care 3033 Bristol St. Ste. AA, Costa Mesa, CA 92626.  Please see reminders and drop off times below.
October 24th – November 9th
Mondays 9:00am – 7:00 pm
Tuesdays 9:00am – 5:00 pm
Wednesdays 8:00am – 5:00pm
Thursdays 9:00am – 7:00pm
Fridays 9:00am – 5:00pm
Saturdays and Sundays – Call or email to check our schedule! (714) 793-0841
On November 9th, we'll be renting a U-haul and driving up all of your donations to the Operation Gratitude warehouse so make sure to get your candy to our office by 5:00pm.
Let's remind our troops that we're here for them and help put a smile on their faces when they are away from home.
Reminders:
Candy must be unopened.
Personal items must be unused.
Cards and letters to the troops welcomed and encouraged!
Please do not hesitate to call/text us at (714) 793-0841, or contact us by email or live chat with any questions!