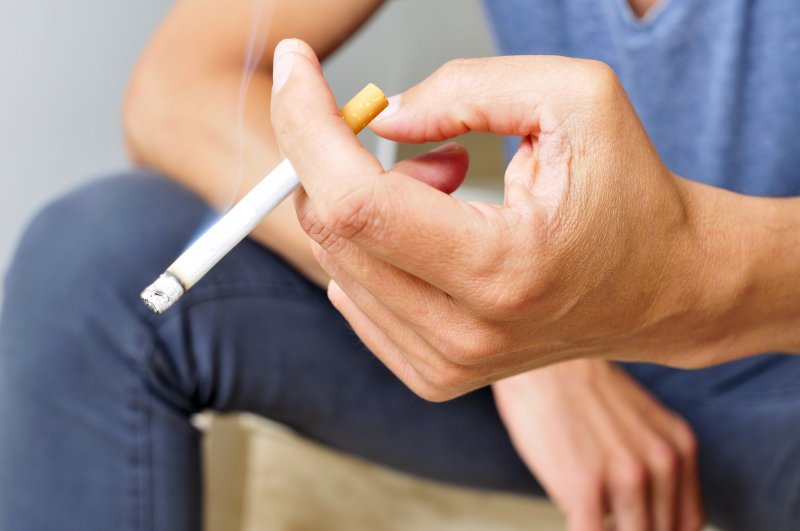 From heart problems to lung cancer, there are numerous consequences for smoking. If you're struggling with tooth loss, here's another one: use of tobacco products has been linked to dental implant failure. Although there are other tooth-replacement options available, dental implants are the only ones that preserve your jawbone, don't move when your chew, and can last for 30+ years. So, if you are an avid user of cigarettes, cigars, and other popular products with tobacco in them, here's what you need to know about smoking and dental implants.
How Smoking Negatively Impacts Dental Implants
Extensive research has found time and time again the havoc that smoking wreaks on your oral health. To start, this unhealthy dental habit has been linked to serious conditions, like gum tissue loss. Even worse, the toxins delay healing, which can cause significant complications post dental implant surgery. Unexpectedly, studies have found that the stress of not smoking also left patients more vulnerable to infection. Simply put, smoking significantly increases your chances of dental implant failure, which is why it's strongly encouraged that you quit.
Can You Smoke Once You've Healed from Dental Implant Surgery?
Possibly. However, even after you've fully recovered from the procedure, your dental implant can fail. Since tobacco use increases the rate of bone loss and damages the soft tissue in your mouth, it's not hard to see why patients who smoke are 2x more likely to experience dental implant failure than their non-smoking counterparts. So, it's recommended that you use the dental implant surgery as a reason to kick the habit for good.
6 Tips for Preventing Dental Implant Failure
Although smoking is a major contributor to dental implant failure, it's by no means the only one. To ensure your recovery is as smooth and stress-free as possible, make sure to:
Quit unhealthy dental habits, like smoking, chewing on ice, and using your teeth as tools.
Implement a solid at-home oral hygiene regimen.
Visit your dentist every six months for a checkup and cleaning.
Eat a balanced, vitamin-rich diet.
Stick to soft foods, like oatmeal and applesauce, immediately following your dental implant procedure.
Limit your sugar intake.
Tooth loss can negatively affect your quality of life, making it difficult to smile confidently and chew properly. Dental implants can help, so don't let smoking be what stops you from enjoying all of the benefits of this state-of-the-art tooth-replacement option!
About the Practice
Led by a hand-selected team of talented, caring, highly trained dentists, Advanced Dental Care is proud to help patients struggling with tooth loss regain their smile and bite. In addition to providing the entire procedure in-house, our team goes above and beyond to set you up for success by covering all the qualifications and risk factors at your initial consultation. As a result, you can make an informed decision on which tooth-replacement option is right for you. If you'd like to learn more about dental implants, don't hesitate to visit our website or give us a call at 714-424-9099.