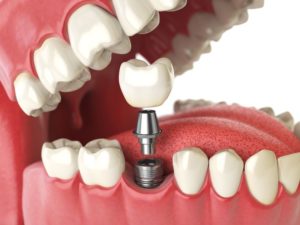 You wouldn't buy a pair of pants without trying them on, right? Okay maybe you would order a pair online, but it's certainly risky.
At least with pants, it's not a huge ordeal to send them back for an exchange or a refund. If you're considering dental implants to upgrade your smile, that is definitely not a case where deciding they aren't a good fit for you after the fact will suffice. You want to know how they'll feel in advance.
Keep reading to learn how they feel compared to natural teeth and what else you can expect with dental implants in Costa Mesa.
How Natural Do Dental Implants Feel?
Since a dental implant is replacing a missing tooth, you don't have any feeling in the implant itself. Any sensation will originate from the surrounding gum tissue, so the implant doesn't feel exactly like your natural tooth.
Implants can't detect sensations like heat, cold, or pressure. You'll rely on the nerves in the adjacent gum tissue to provide the sensation.
In terms of look, function, and daily care, however, a dental implant is just like your natural tooth. They are custom-made for your unique smile, which ensures they are incredibly lifelike.
What Are the Benefits of Getting Dental Implants?
Since the implants bond to your jawbone, they provide a stable foundation for restorations that replace your teeth above the gum line. Other tooth replacement options cannot match that level of stability. When you eat, you don't have to worry that your implants will slip or feel loose.
Speaking of eating, getting dental implants does not reduce your biting power compared to natural teeth. Since dentures rest on your gums, it can be difficult or impossible to bite into hard foods. With dental implants, on the other hand, you can enjoy all the same foods you did before you lost your teeth.
You have several options to address missing teeth, but it is hard to match the feel, stability, and function of dental implants. Your implant dentist in Costa Mesa will be able to answer all your questions and conduct an exam to make sure you are a good candidate for this treatment.
About the Practice
At Advanced Dental Care, we use minimally invasive, state-of-the-art tools and procedures to maximize your comfort and convenience. Our compassionate staff offers personalized service and flexible hours for busy individuals and families. When you need a dental implant provider in Costa Mesa, we can place and restore implants in-house using cutting-edge technology and we offer fair fees with no surprises. To see if you are a candidate for this truly innovative form of tooth replacement, schedule a consultation by visiting our website or call (714) 424-9099.