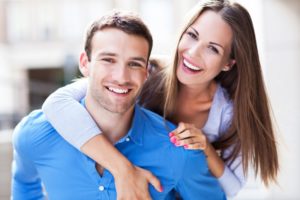 When it comes to dental cosmetic treatments, there's no treatment quite as popular as teeth whitening. It's a great way to give your smile a quick boost without being too invasive. Of course, not any whitening system will do. According to your dentist, the Zoom! whitening system has several notable benefits over other systems. That's because it's method of breaking down stains is different from typical in-office systems, and much different than over-the-counter whitening trays.
Here's what you can expect when you come in for your Zoom! teeth whitening in Costa Mesa.
A Faster Treatment
Zoom! offers one of the fastest whitening systems today. Bleaching trays require patients to wear custom trays for at least an hour a day for one to two weeks before any results can appear. However, in-office systems can be completed in a single visit, and Zoom! offers one of the quickest on the market.
Treatments are done in 15-minute sessions, but patients can easily perform multiple consecutive sessions depending on how white they want their smile to be. That means in just 45 minutes, you can have a smile up to 8 shades whiter. Depending on your tolerance, patients can have up to four sessions in a single visit for extra stubborn stains.
Less Sensitivity, Better Comfort
Depending on the whitening system used, patients may have issues with sensitivity and gum irritation when exposed for too long. When other systems also use infrared heat, it can easily cause the teeth to become overheated, leading to nerve damage. Zoom! whitening has a different approach for using light to activate bleaching gel.
By narrowing the ultraviolet light emitting from the Phillips WhiteSpeed lamp, your dentist can filter infrared light energy and expose your teeth to less heat. This should reduce sensitivity and gum irritation, creating a more comfortable process.
Is Zoom! Whitening Right for You?
To get the most out of teeth whitening in Costa Mesa, take a moment to examine the stains in your current smile. Zoom! works best for teeth that have yellowish-brown stains. If you have grayish stains as a result from antibiotics, such as tetracycline, you may be able to reduce their appearance through a customized treatment plan, which will ensure the best results.
It's also recommended that patients only receive whitening if they've had their teeth professionally cleaned within the past three months. This allows the bleaching agents to activate as effectively as possible without plaque interfering.
With Zoom!'s potent hydrogen peroxide gel and specialized UV light settings, your cosmetic dentist in Costa Mesa can provide highly effective whitening, reduce your post-treatment sensitivity, and do it all in a single visit. Schedule an appointment today to give your smile the boost it deserves!
About the Author
Dr. Jeremy B. Jorgenson earned his Doctor of Dental Surgery degree from the University of Southern California. He offers multiple whitening systems in order to best meet patient needs for a whiter, brighter smile. To learn more about his treatments or practice, contact him through his website.