Operation Gratitude – Halloween Candy Buy Back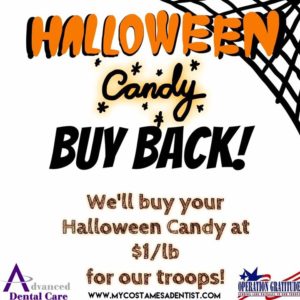 Operation Gratitude and Advanced Dental Care have done it again! It's our third annual Operation Gratitude Halloween Candy Buy Back and this year we've upped the ante!  Not only are paying $1/lb of extra Halloween candy donated to Operation Gratitude to send to our troops overseas, but the donor who brings the most candy will also win an Oral-B Electric Toothbrush Gift Bag!
Operation Gratitude is a non-profit organization based out of Chatsworth, CA.  This amazing organization gathers much desired food, toiletry, entertainment, and personal items to send care packages to our troops overseas.  Often times, soldiers receive letters, cards, video messages to show our love and support while they serve our country away from their families and friends and comforts of home.
Help show our troops some love and save yourself from sugar and tooth decay! ; )  Bring your extra Halloween candy to Advanced Dental Care 3033 Bristol St. Ste. AA, Costa Mesa, CA 92626.  Please see reminders and drop off times below.
October 23rd and November 14th
Mondays 9:00am – 7:00 pm
Tuesdays 9:00am – 5:00 pm
Wednesdays 8:00am – 5:00pm
Thursdays 9:00am – 7:00pm
Fridays 9:00am – 5:00pm
Saturdays and Sundays – Call or email to check our schedule! (714) 424-9099
On November 14th, we're driving all of your Halloween candy and other donations to the Operation Gratitude warehouse in Chatsworth.  The Operation Gratitude volunteers will then package your donations into care packages for the troops!
Reminders:
Candy must be unopened.
Personal items must be unused.
Cards and letters to the troops welcomed and encouraged!
For any additional questions, please contact one of our friendly staff members 24/7 at (714) 424-9099, by email, or live chat!
Save
Save
Save
Save
Save
Save
Save
Save
Save