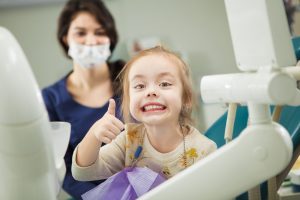 It's that time of year where parents and students transition from summer vacation mode to back to school mode. While you're busy gathering the items on your school supply list, shopping for new clothes, and getting your hair cut, don't forget one of the most important visits you need to schedule: the dentist!
Seeing your dentist before school starts is the best way to ensure your child's smile is in spectacular shape. This could be especially important if summer vacay mode included lots of carbonated beverages, sugary snacks like popsicles, or staying up late and forgetting to brush your teeth before bed.
Book your child's dental visit now: https://www.mycostamesadentist.com/childrens-dentistry.html
Back to School Dental Visit
Don't' worry! We're here to help you re-establish your school-year routine and good habits.
At your back-to-school dental visit, we'll start with your annual dental x-rays (if you're due). Next your awesome dental hygienist will perform a hygiene exam to look for areas you might have missed brushing or flossing, check the condition of your gums, and look for any areas that may indicate tooth or gum disease.  Then one of our super kind and friendly doctors will conduct a comprehensive dental exam.
Back to School Smile Tips
Brush and Floss for 2 Minutes x 2 Times a Day

Preferably in the morning and before bed

See your Dentist before School Starts

Ensure your child has no decay or other conditions that could cause urgent, painful situations and missing school

Drink More Water

Hydration is not only good for the brain and body, but also for your teeth
Better than sugary/acidic beverages like soda

Choose Healthy Snacks

Pack snacks that are low in sugar and won't stick to teeth
Carrots, celery with peanut butter, string cheese

Rinse with water

Rinsing with water between meals when you can't brush can help prevent food and drinks from attacking teeth

Keep Stress Low

Avoid chewing on pencils, pens, or anything else that could damage teeth
Try stretching, yoga, or going for a walk to reduce stress

Get FREE Fluoride
Receive FREE fluoride treatment when you donate a school supply at your dental exam and cleaning visit this month!
Click here to book now!
All donations will go to our friends at the Chava's Angels at Heart Foundation in Santa Ana to be distributed to kids in need.