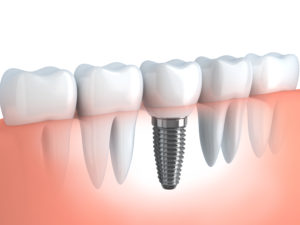 Are you tired of living with the daily struggles of missing teeth? We recommend that you think about getting dental implants in Costa Mesa. They're the best tooth replacement option available! However, we don't want you to leap into anything without first knowing the answers to some common questions that many people have about this remarkable treatment.
Why Are Dental Implants Better Than Other Options?
Traditional bridges and dentures are both effective means of replacing missing teeth. However, implants are superior because they:
Have the potential to last a lifetime
Bond with your body, creating an extremely strong base for your new teeth
Can stand up to pretty much any food you may choose to eat
Help to prevent bone loss in the jaw
Never slip out of the mouth
Are easy to care for
Look extremely natural
Don't require your dentist to file down any of your natural teeth
Who Can Get Dental Implants?
The ideal candidate for dental implants:
Has a strong, dense jawbone
Doesn't have any oral or systemic health conditions that could affect healing after surgery
Doesn't smoke
Even if you aren't an "ideal candidate" for implants, however, that doesn't mean you shouldn't at least get a consultation. Thanks to modern placement techniques, even people whose cases are a tad more complex may be able to enjoy all of the benefits of dental implants.
How Much Do Dental Implants Cost?
We can't give you a reliable estimate for the cost of your implant treatment because every case is unique. Some patients require extensive and costly preliminary work, such as bone grafts or extractions, before they're able to receive implants. The number of implants you need also has a big impact on the price of your new smile. What the implants are made of, whether your insurance will help pay for the treatment, and other factors come into play as well.
However, you shouldn't let financial concerns stop you from at least investigating the possibility of getting implants. Financing options are available for many patients, and implants are an investment that could very well reward you generously for the rest of your life. They're worth the cost!
Is It Painful to Get Dental Implants?
You shouldn't feel a thing during the implant surgery. There may be some swelling and tenderness afterward, but with some simple pain management techniques, you're unlikely to experience too much discomfort. Many implant patients have remarked that the entire process was much easier than they anticipated.
We hope this quick primer on dental implants has answered some of your questions about this life-changing procedure. If you would like to learn even more, your "dentist near me" would be happy to chat with you.
About the Dentist
Dr. Jeremy B. Jorgenson is your caring, skilled dentist in Costa Mesa. He enjoys helping patients to get the most out of their smiles, which is why he offers free initial consultations for folks who are thinking about getting dental implants. To schedule your sit-down with Dr. Jorgenson, please contact us at 714-424-9099.