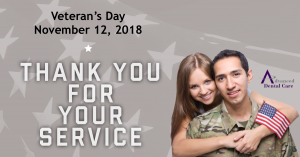 Honoring our heroes is important to us, but too often America's veterans return home only to face more battles.  Obtaining medical and dental care for veterans shouldn't be one of them.  That's why Dr. Jeremy Jorgenson and the Advanced Dental Care team are giving back this Veteran's Day by offering free dental exams and x-rays for veterans.  In addition, any dental treatment needed will be provided at 50% off.
Dental Care for Veterans
At Advanced Dental Care, your comfort and satisfaction is our number one priority.  We do our best to prepare for your appointment before you arrive.  On your first visit to our Costa Mesa dental office, you'll quickly check-in in our private registration room before making yourself at home.  We offer blankets, pillows, aromatherapy, music, DirectTV, internet and more to help you feel as relaxed as possible.  You'll meet our dental team and discuss any concerns about the health or appearance of your smile.  Once we know about anything that is bothering you, we will get started with your dental exam.

FREE DENTAL EXAMS AND X-RAYS
The dental exam
Your dental assistant will start by taking a few digital x-rays.  Digital x-rays  are important in providing dental care for veterans, because they provide diagnostic images that may not be visible to the eye.  Your dental assistant may also take intraoral photos or a 3D scan using our iTero digital scanner.  Next you'll meet Dr. Jeremy Jorgenson, owner/dentist of Advanced Dental Care.  After Dr. Jorgenson's comprehensive exam, he'll discuss any areas of concern using the digital images taken earlier in the appointment.
Treatment planning
Dr. Jorgenson's treatment philosophy is to identify why your dental condition might be occurring and recommend the most conservative approach to treating the condition.  A condition may have multiple treatment options and only you and Dr. Jorgenson can choose the treatment option that is best for you.  We strongly encourage patients to take an active role in their treatment to ensure the best outcomes.  You are encouraged to ask as many questions as you want. Dr. Jorgenson will then work with our treatment coordinator, Angeliki, to prepare a custom treatment plan for you.
Making dental care possible
We always work with our patients to ensure they can receive the dental care they need, but on Monday, November 9th dental care for veterans will be offered for 50% off our standard fees.  We can also make financial arrangements to further assist with treatment investments.  This includes in-office or third-party payment plans including up to 18 months with 0% interest**!
50% OFF TREATMENT*
Monday, November 12, 2018  10:00 am – 7:00 pm
Tuesday, November 13, 2018 9:00am – 5:00pm
Thank you for your service!
To schedule an appointment or for any questions, please call us at (714) 424-9099 or by email at info@mycostamesadentist.com.
Advanced Dental Care is a full-service dental office located at 3033 Bristol St. Ste. AA, Costa Mesa, CA 92626.  Specializing in family and cosmetic dentistry.  For more information, please visit us online at www.mycostamesadentist.com. 
*Excludes Orthodontic treatments. **Upon qualifying credit for treatment plans over $1000.