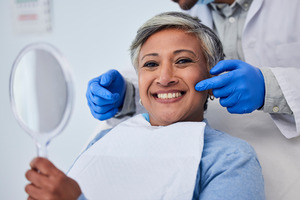 While traditional bridges and dentures are a time-tested solution for tooth loss, nowadays many people use dental implants to enjoy complete smiles again. As such, if you're struggling with missing teeth, you may be interested in getting implants to replace them from the roots up. However, after a certain point in life, you may find yourself wondering whether your age will be an obstacle to having dental implants placed; your dentist is here to address this concern.
Is There Such a Thing as Too Old for Dental Implants?
Strictly speaking, there is no such thing as a maximum age limit for dental implant surgery. Even if you're currently in your 80s or 90s, you could still potentially have the treatment performed in order to fill in any gaps in your smile.
What really matters when it comes to dental implant candidacy is the state of your oral and overall health. Your mouth should be free of gum disease (which is a leading cause of dental implant failure), and your body needs to be in good enough shape in general so that you can safely undergo minor surgery. Furthermore, there needs to be a certain level of bone density in your jaw in order to ensure that the implant posts get the support they need.
If you're interested in having dental implants placed, speak to your dentist. They can determine whether you can have the treatment done right away or if you'll need to have preliminary work done first.
Why are Dental Implants a Great Choice for Tooth Replacement?
There are plenty of reasons why patients of all ages are choosing dental implants over traditional bridges and dentures:
Dental implants have almost as much biting and chewing power as real teeth. This means you can eat virtually anything you want, making it easier to get the nutrition you need to stay healthy.
Since the implant posts are attached to your jaw, you don't need to worry about your replacement teeth becoming dislodged.
Unlike other forms of tooth replacement, dental implants can actually stop the process of bone loss in your jaw.
Once they have fused with your jawbone and have been restored with a lifelike crown, bridge, or denture, your dental implants will look, feel, and function like your natural teeth.
Even if you're in your autumn years, dental implants can still be well worth considering. Don't lose any time scheduling a consultation if you're interested in rebuilding your smile with long-lasting, reliable dental implant posts.
About the Practice
At Advanced Dental Care, our experts combine their years of experience with cutting-edge technology to bring you a truly complete dental experience. We can offer most dental treatments in-house, and that includes placing dental implants. If you're interested in scheduling an implant consultation at our Costa Mesa practice, please visit our website or call (714) 424-9099.