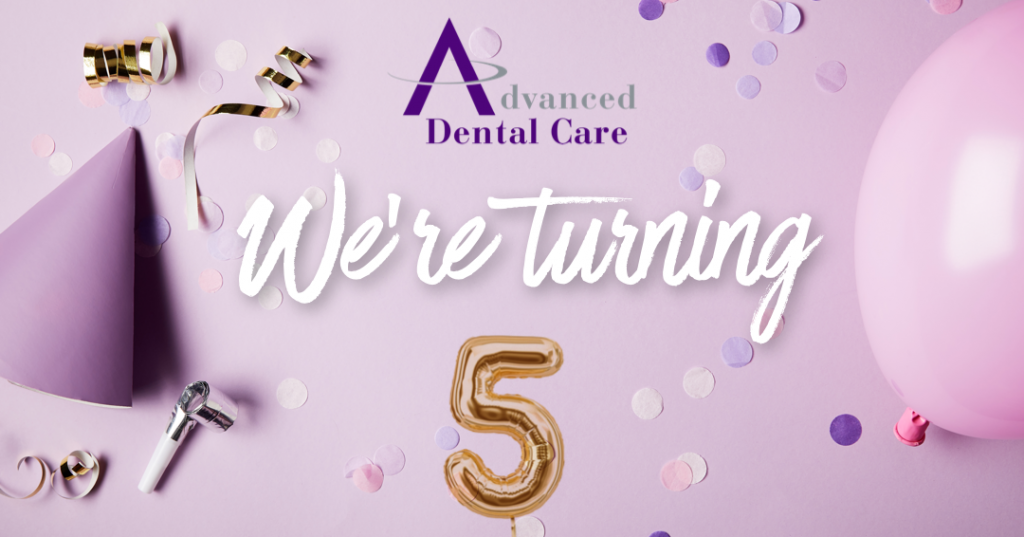 We are so honored and blessed to announce that this July we are celebrating 5 years in service as your Costa Mesa dentist! Wow! We really can't believe how quickly time has flown by. We are so amazed and honored by your trust and loyalty in us.
What you mean to us
Beyond the business of dental care – we have met such wonderful people who let us become a part of their lives. From our patients, to our friends at the Costa Mesa Chamber of Commerce, to our family and friends – it's really been an unbelievable experience. These personal connections over the last 5 years are truly the most memorable. The time spent laughing, crying, and making life-long relationships with all of you, it's something we don't certainly don't take lightly.
Our growing family
Another amazing feat is the growth of our dental team. As a dental team, we've grown from one doctor and 3 staff members to two doctors, two front office staff, three dental assistants, and four dental hygienists! Growing our team has allowed us to see more patients and provide the highest quality of care possible. On a personal level, we've had three marriages, two babies, and one on the way this August (Dr. Jorgenson)! We are truly a family and we hope you love our dental family as much as we do.
How we've grown
Over the last few years, we've continued to expand our skill set, knowledge, and dental equipment including out iTero Digital Scanner, ICON Caries Infiltration System, and our Bioclear Matrix System. Dr. Jorgenson became an Invisalign Gold Plus provider and a proud member of the American Society of Implant and Restorative Dentistry (ASIRD).
Where we're going
It's very important to us to always be improving and being the best dental care team we can for you. We will continue acquiring the latest dental technology and attending Continuing Education courses. We plan to continue offer evening and weekend dental appointments, as well as, emergency dental care. Looking to the future, we hope we can continue growing (and who knows, maybe even one day open a second location)!
Being your Costa Mesa dentist inspires us to continue learning, exploring, and demonstrating the highest levels of dental care possible. It inspires us to teach more people about the importance of dental care, wellness, and leading healthy lifestyles. It inspires us to continue to be involved in our community and give back however we can. Being your Costa Mesa dentist inspires us to just be better!
Celebrate with us
Please join us for a 5th Anniversary – Party in the Park on Saturday, July 20th, 2019 at Wakeham Park in Costa Mesa, CA from 12:00-3:00pm.
Reserve your tickets here:
https://www.facebook.com/events/2397971453747808/
And we're not stopping there! We'll also be giving away special gifts to our patients during the week of July 22-26th so make sure you make your dental appointment!
Thank you, thank you, thank you! Cheers and here's to the next 5 years!
Join our family
For more information on how to become a patient of Dr. Jeremy Jorgenson and Advanced Dental Care, please call (714) 424-9099 or visit us online at www.mycostamesadentist.com.
Some of our Memories