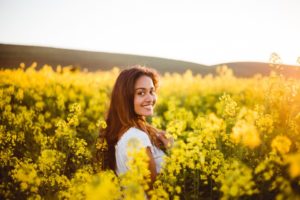 Tooth loss isn't ever easy — but the only thing to do after one or more teeth have gone missing is to move forward with the best replacement option available to you. For most people, that's dental implants in Costa Mesa. They offer improved stability and a natural look you just can't get from other options. And those are only two of dental implants' many benefits! In this week's blog post, we've got the top five reasons over 3 million Americans have chosen dental implants to complete their smiles.
#1: Better Oral Health
Tooth loss causes the jawbone to shrink due to a lack of nutrients to the site. Because dental implants provide prosthetic roots for the jaw, blood flow returns and the bone has all the nutrients it needs to thrive. In this way, dental implants help you enjoy better oral health with a sturdy jawbone for a lifetime to come.
#2: Get Your Bite Back
It's difficult to eat a variety of crunchy, nutrient-rich foods when you're missing some of your teeth. Even patients who have traditional dentures may still struggle to maintain a balanced diet. But by stabilizing the prosthetic tooth with an implant placed in your jaw, dental implants give you your bite back! You can feel free to bite right into a fresh apple or steak without fear that your teeth will slip around or fall out.
#3: Nature's Rival
Because they provide a comprehensive replacement for your missing teeth, dental implants are the closest thing to your natural teeth you can get. With a prosthetic made out of natural-looking materials, an implant-supported replacement looks just like the rest of your teeth — and it's as easy to brush and floss, too.
#4: A Lasting Investment
A single dental implant can cost between $1,000 and $4,000, and that cost can go up depending on whether or not you need to have a surgery to strengthen the jawbone beforehand. So yes, dental implants may cost more upfront than other options in tooth replacement, but they are well worth the investment over time. Other methods, like a traditional denture or fixed bridge, will need to be replaced periodically over a lifetime due to wear and tear and the gradual shrinking of the jawbone. But with proper maintenance, successful dental implants can stay strong and healthy for many decades!
#5: A Multitude of Options
Tooth loss isn't one-size-fits-all, and neither are dental implants. They come in a number of sizes to accommodate different jawbones and locations of missing teeth and, while most are made of titanium, people with metal sensitivities may be eligible for dental implants made from alternative materials.
To learn more about dental implants and whether or not they are right for you, first schedule an appointment with your general dentist who will refer you to a specialist. If you can benefit from implant dentistry, that's excellent news — you can look forward to a lifetime with a strong, healthy smile!
About the Author
Dr. Jeremy B. Jorgenson is a local leader in general and restorative dentistry, including dental implants. To learn more about this comprehensive tooth replacement option or to schedule an appointment, we invite you to contact the office at (714) 424-9099. You can also book a visit online anytime at www.mycostamesadentist.com