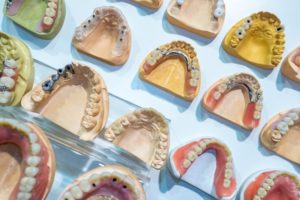 The dental implant process begins when you schedule a consultation with your dentist. From there, they'll be able to outline an incredibly thorough treatment plan to restore your smile, including what type of implant-retained restoration you need. There are three main types: single tooth implants that hold a crown, an implant bridge or partial to replace several teeth, or a complete implant denture to restore an entire arch of teeth. Read on to learn about the three different types of implants that your dentist may suggest during your consultation.
Single Tooth Implant Crown
If you're missing one tooth, it may not seem like a big deal that needs to be immediately addressed, but the longer you leave the gap in your smile, the more likely additional oral problems will arise. A single implant can be placed in the space of your mouth that will fuse with your jawbone through a process called osseointegration. Once this happens, your dentist will place a small, metal connector piece called an abutment to it that will hold a custom-crafted dental crown in place to complete your smile.
Implant Bridge or Partial Denture
Missing several consecutive teeth or several teeth along an arch can result in orthodontic issues down the road, because your existing teeth will likely begin shifting into those gaps to fill the space in your mouth. Unlike traditional bridges, an implant bridge is anchored to two dental implants that are placed at either end of the gap in your smile. This means that your existing healthy teeth won't need to be altered at all in order to anchor your replacements. Similarly, a partial denture can be affixed to your mouth using implants if you're missing several teeth along an arch that aren't in a row.
Implant Denture
You no longer have to rely on natural suction and denture adhesive to keep your replacement teeth in place. An implant denture combines the aesthetic and functional benefits of traditional dentures with a strong, stable, and secure foundation that eliminates many of the pesky downsides of these restorations, like difficulty eating and speaking. Your dentist will be able to attach a complete denture to anywhere from four to eight dental implants that are placed below your gumline. They'll be strategically inserted in the densest areas of your jawbone to provide your prosthetic with enhanced stability and power.
Traditional restorations are helpful for many people, but for those who are looking for something just a little more reliable, dental implants are an excellent option. You can get your journey towards a beautiful, functional, and complete smile started by stopping in for an initial consultation with your dentist today to learn more about what type of dental implant you would require.
About the Author
Dr. Jeremy Jorgenson truly cares about his patients and wants to see them happy, which is why he has dedicated much of his free time to learning the best and longest-lasting ways to restore smiles. He is a proud and active member of the American Society of Implant & Reconstructive Dentistry, and by working closely with the rest of the team, Dr. Jorgenson is able to restore smiles from start-to-finish with dental implant treatment at Advanced Dental Care. For questions or to schedule a consultation, visit our website or call 714-424-9099.