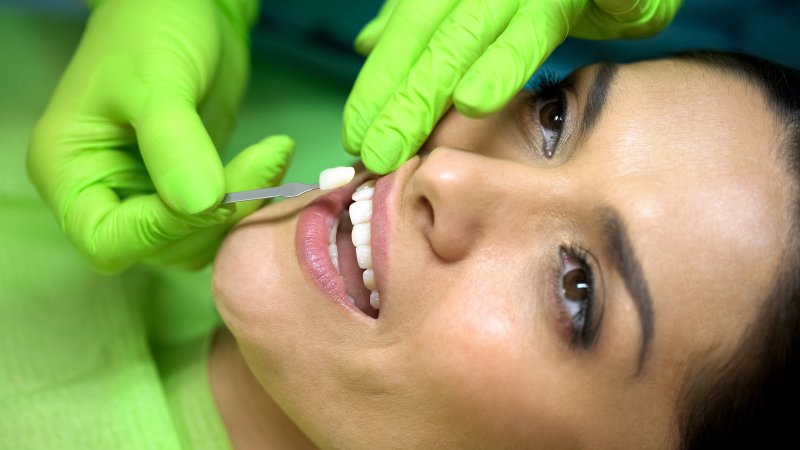 If you're looking to improve the aesthetics of your smile, you have probably heard about veneers. But one thing that many people don't know that there are different types of veneers out there. Composite resin and porcelain are the most commonly used materials to make veneers, and both of them can transform your smile to perfection. But which option is best for you? Continue reading to learn more about the benefits of each one so you can decide for yourself.
Composite Veneers
This type of veneer uses a composite material to cover a damaged tooth. It is then smoothed and polished in order to look more natural and aesthetically pleasing. They have many advantages. Here are just some of them:
More Affordable: On average, composite veneers are approximately half as expensive as porcelain ones. The majority of the time, veneers are not covered by insurance, so price is an important thing to consider for many families.
One-Day Treatment: Composites can typically be fabricated while you wait which makes it easier to get your veneers much faster than if you had them made from porcelain. Direct composite veneers are sculpted to your teeth rather than in a lab.
Reversibility: Unlike porcelain veneers, minimal prep work is required on your natural teeth in order to place composite ones. This means that it can be removed and replaced as needed.
Porcelain Veneers
This cosmetic procedure has become very popular amongst celebrities because it covers up imperfections and leaves patients with a red-carpet ready smile. Here are some of their many advantages that make them so desirable:
Strength: Porcelain is much stronger than composite resin. Even though they are not completely indestructible, they are said to be just as strong as your natural teeth.
Longevity: Porcelain veneers can last upwards of 15 years if you care for them properly. Their composite counterparts only last between five to seven years on average.
Appearance: While both options look natural, porcelain veneers have more toothlike aesthetics and a translucent quality that is similar to your natural enamel.
Stain Resistant: Composite veneers are more porous and therefore more resistant to discoloration over time.
Which Option Is Better?
Both options are great, but ultimately, you are getting what you pay for. If you are looking for a cost-effective solution to imperfections in your smile, composite veneers are a great option that won't break the bank. If you want something more durable that will last many years, you may want to invest in porcelain veneers instead.
Veneers help to restore cracked, chipped, and discolored teeth as well as many other cosmetic issues. By talking you're your dentist, you will be able to decide which option will best help you reach your smile goals!
About the Author
Dr. Jeremy B. Jorgenson is a cosmetic dentist who is serving the Costa Mesa, CA area. He earned his Doctor of Dental Surgery from the University of Southern California and is committed to completing continuing education courses in order to keep his knowledge and skills sharp. He is currently a member of several professional organizations including the American Dental Association and the Academy of General Dentistry. For more information on veneers or to schedule an appointment, visit his website or call (714) 424-9099.