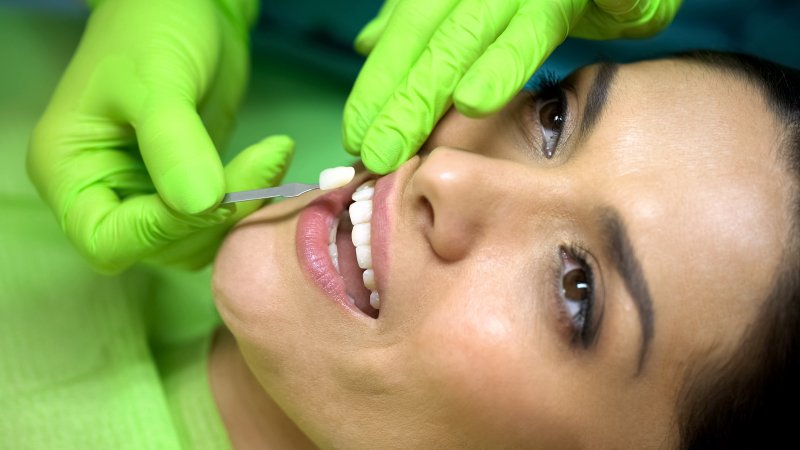 Both dental bonding and porcelain veneers are great ways to enhance the beauty of your smile. Whether you have gaps, cracks, chips, or some stubborn discoloration, they are both effective at making corrections. However, before you can decide which one to choose, you need to understand the difference between veneers and bonding in Costa Mesa. There are also several factors to consider in order to choose the best one for you. Continue reading to learn what those are.
What's the Difference Between Veneers and Bonding?
Both treatments work great as masking imperfections, but they are also very different from each other. Here's how each one works:
Porcelain Veneers: Veneers are wafer-thin custom shells of porcelain that are placed over the front surface of the teeth in order to cover imperfections. They can change the color, shape, size, and length of the teeth.
Direct Bonding: This procedure involves your dentist using a tooth-colored composite resin to your teeth and shapes it in order to cover up imperfections. It is hardened with the use of a special light which bonds the material to the tooth.
What Factors Should You Consider?
When deciding between the two cosmetic options, make sure that you consider all of the following:
Cosmetic Concerns: Both options tend to address similar concerns, but if you are wanting to cover a larger area or a more pronounced aesthetic issue, porcelain veneers may be a better option.
Preparation: Dental bonding requires no preparation and is done in a single appointment. However, veneers require multiple appointments. This is because your dentist needs to remove a small amount of your teeth's protective enamel and take an impression of your smile before permanent veneers can be placed.
Material: Bonding is made from a tooth-colored composite resin. Veneers are made from a durable ceramic substance in a lab. Ceramic material tends to be stronger and more resistant to staining in the future.
Longevity: When you care for your smile properly, veneers can last upwards of 15 years, but direct bonding only lasts from 4-10 years before it needs to be touched up.
Price: Bonding is more affordable than porcelain veneers. This is because it doesn't last as long and is less resistant to staining.
When it comes to the appearance of your smile, choosing the right procedure is important in order for you to get the results you're looking for. Talk to your dentist so you can determine which option will best help you reach your smile goals.
About the Author
Dr. Jeremy B. Jorgenson earned his Doctor of Dental Surgery from the University of Southern California and is a member of numerous organizations, including the Academy of General Dentistry and the American Dental Association. For more information on direct bonding or porcelain veneers or to schedule an appointment, visit his website or call (714) 424-9099.