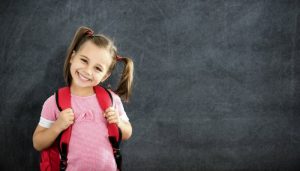 No matter how old your child is, an important part of being a parent is helping them get ready for the new school year. From buying all the right school supplies to making sure their vaccinations are up to date, it's crucial that they're prepared for the coming year. One way to be sure they're ready is by helping them keep their teeth in tip-top shape. Read on as a children's dentist in Costa Mesa offers 5 things to add to your kid's back-to-school checklist for healthy teeth.
1. Book a Checkup
Seeing your dentist in Costa Mesa twice a year is important, so why not schedule your child's next appointment right before school starts? They can examine your kid's mouth for early signs of tooth decay and gum disease, saving you time and money later on by avoiding extensive procedures like fillings. In addition, their teeth will be shiny and clean for their upcoming yearbook pictures!
2. Buy a Fresh Toothbrush
Did you know that your toothbrush should be replaced every 3 to 4 months? Most of us wait a lot longer than that. By using a toothbrush for longer periods of time, the bristles get worn down and become less effective at cleaning. If it's been a while since you've bought your child a new brush, go ahead and make that switch.
3. Get a New Mouthguard
If your little one is an athlete, they're going to need a mouthguard to protect their teeth from injuries. Dental emergencies make up about 40 percent of all sports injuries, so it's important that your kid has enough protection. At your next checkup, ask your family dentist in Costa Mesa to create a custom mouthguard for your son or daughter to prevent an extra emergency visit in the future.
4. Help Them Stay Hydrated
Water is perhaps the healthiest drink your kid can consume. It washes away excess food particles and bacteria that can result in cavities. It also keeps your little one hydrated, which is especially important if they play sports. If your child's school allows it, give them a reusable water bottle and tell them to sip it throughout the day.
5. Develop a Brushing Routine
The best way to fight cavities is by getting into a good oral hygiene routine. Use the summer as a chance to build a daily habit of brushing and flossing. Hopefully that habit will carry over into the school year.
Now you see there's a lot more to getting your child ready for the school year besides just buying supplies. Book your checkup with your children's dentist today.
About the Author
Dr. Jeremy Jorgenson wants to see all of his patients at Advanced Dental Care smile brighter in a warm, comfortable environment. He would be proud to help your child develop a healthy routine or brushing and flossing, and provide them with a mouthguard for extra protection during the school year. To book your appointment, contact him at (714)-424-9099.