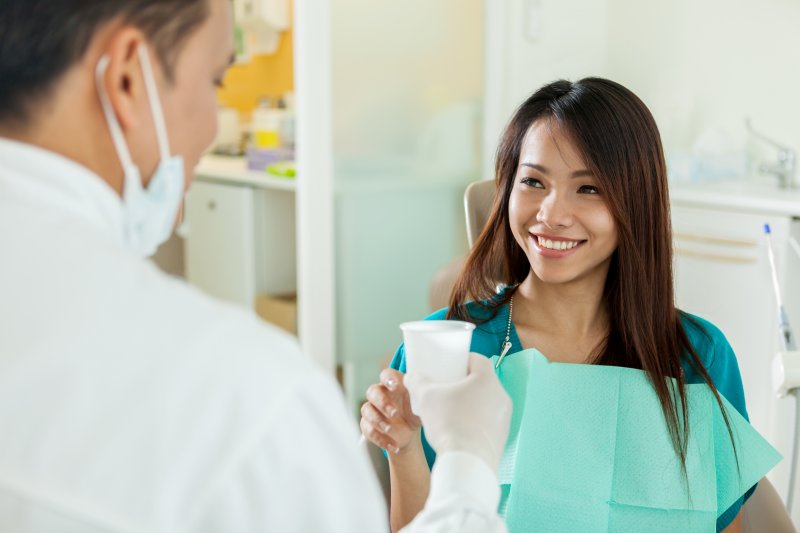 One thing is for sure; the world will forever be changed after COVID-19. Because the virus posed such an immediate and significant threat to the lives of Americans, government officials and medical professionals are taking every precaution to prevent a future outbreak. That means you can expect some changes when you visit your dentist in Costa Mesa. You may be asked to rinse with an antimicrobial mouthwash before your appointment gets underway, but why? Read on to find out.
The Purpose of Rinsing with an Antimicrobial Mouthwash
Because COVID-19 has been so dynamic and unpredictable, scientists and doctors are still working out the best solutions for preventing a future threat. When you visit your local dentist, you can expect to be asked to rinse your mouth with an antimicrobial solution. By killing harmful bacteria that are lingering in the mouth, it provides an added layer of protection. After all, you can never go wrong being a little more cautious.
It's Not a Remedy for COVID-19
Given the current climate of misleading remedies and falsehoods, it's important to know that an antimicrobial mouthwash is, in no way, a cure for COVID-19 or throat soreness. Furthermore, it cannot be used as hand sanitizer. If you're displaying any of the warning signs of the virus, you should immediately head to a testing center so you can know for sure. By taking the proactive steps to find out, and self-quarantining and seeking treatment (if necessary), you can lower the risk of transmission.
Other Measures Dentists are Taking to Keep You Safe
In addition to asking you to rinse with a mouthwash, dentists are taking further steps to ensure the safest environment possible. Here are some of the measures that have been put in place:
Advanced staff training to make sure everyone is on the same page with the safety protocols
The daily designation of a safety champion who will answer patient questions, and ensure social distancing and overall compliance
Daily health assessments, which may include a temperature check and a quick assessment
A no handshakes or hugs policy to decrease the chances of spreading the virus
No office tours, as to limit potential exposures to the virus
Reminders about the proper personal hygiene standards
A change-clothes-at-work policy to decrease the chances of spreading the virus in other public places
To find out the other steps that are being taken with your utmost safety in mind, visit your local dentist's website to view the dental safety protocols. Ultimately, now that you're able to once again visit, the last thing you should have to worry about is whether the environment is safe. With these precautionary measures in place, you can focus on achieving the absolute best dental health possible.
About the Author
Dr. Jeremy B. Jorgenson is a graduate of the University of Southern California, where he earned his Doctor of Dental Surgery degree. A member of the Academy of General Dentistry, Orange County Dental Society and other professional organizations, he takes a careful approach to providing the care his patients need. When you visit, you can rest assured that Dr. Jorgenson and staff have taken the necessary steps to keep you safe. He can be reached for more information through his website.