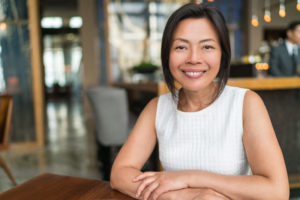 If you have just gotten porcelain veneers in Costa Mesa, you know they are a significant investment — and you want to make sure yours last as long as possible. To help you enjoy your new, beautiful smile for years and years to come, we've got the top 5 porcelain veneers maintenance tips below!
#1: Practice Good Oral Hygiene
Brushing and flossing will help to prevent your veneers from staining and discoloration over time. And, while the dental porcelain cannot develop cavities, the teeth underneath and around them are as vulnerable as ever to decay. Continue to brush your teeth for two minutes, at least twice a day, using a non abrasive toothpaste and cleaning in gentle circular motions. Floss your teeth daily to fully remove plaque and food particles from between and around the teeth.
#2: Visit Your Dentist
We will schedule an appointment a few weeks after your veneers are complete to make sure everything is looking and functioning just like it should. Be sure to attend this follow-up appointment and semi-annual visits after that to maintain a bright, beautiful smile. Our team will remove any plaque and tartar buildup and give your veneers a polish to ensure they keep that beautiful sparkle you love.
#3: Protect Those Pearly Whites
If you play contact sports, make sure you protect your investment with a custom-fitted mouthguard. Sports injuries are one of the most common causes of chipped, broken, and otherwise injured teeth. Because it protects you from needing to have veneers replaced, getting a customized mouthguard is a small investment that can save you big time in the long run.
#4: Avoid Bad Habits
Habits like nail biting and chewing on ice or your pen at work can take a big toll on your new veneers. Try your best to break these habits before they break your smile! You may want to try squeezing a stress ball or popping a rubber band to relieve nervous or stressed energy at first.
#5: Treat Teeth Grinding
If you grind your teeth at night, you have bruxism — and that is likely to put your veneers at a big risk of breaking or wearing down. Your dentist can provide a customized nightguard for teeth grinding and jaw clenching to help ensure you enjoy your beautiful veneers for as long as possible.
With proper care, your new porcelain veneers can last for 10 years or more. Do you have additional questions about how to keep them in shape? Don't hesitate to get in touch with your cosmetic dentist in Costa Mesa for more expert advice.
About the Author
Dr. Jeremy Jorgenson is a general and cosmetic dentist providing comprehensive services for local friends and neighbors. To learn more about his services or to schedule an appointment with the "dentist near me" you are searching for, we invite you to contact the office at 714-424-9099.