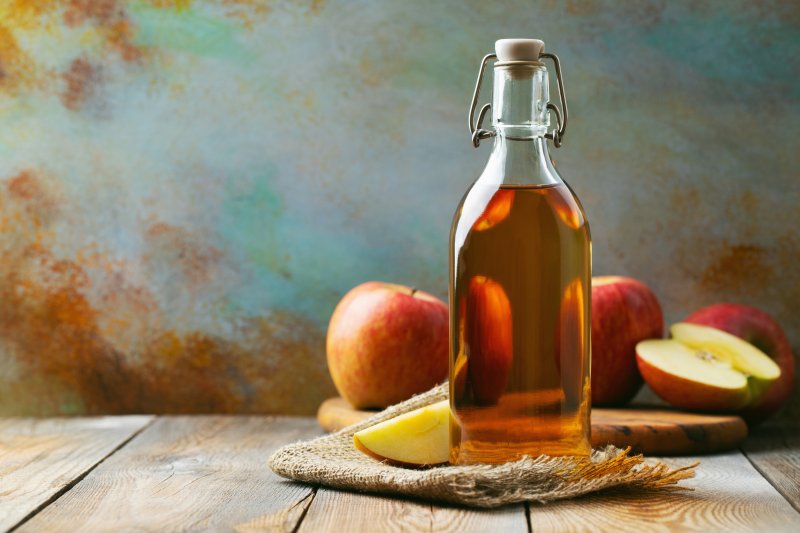 There always seems to be a new fad that makes its way around online. After all, the internet is a place that is full of all sorts of information on countless different subjects, including dentistry. However, not all of the trends that you see online are worth giving a try. There are numerous dental "hacks" online that could end up damaging your smile. Here are just a few of them that you should be especially wary of for the sake of your oral health.
Apple Cider Vinegar
There are many different health benefits of consuming apple cider vinegar. It can be great for people who have an upset stomach, sore throat, or high cholesterol, but it isn't usually the best option for your smile. Your teeth are vulnerable to acidic substances, and this type of vinegar is so acidic that it can cause your enamel to dissolve over time. In the end, you will be at increased risk for cavities. If you are consuming apple cider vinegar, be sure to rinse your mouth out afterwards to help return the pH of your mouth to normal.
Lemon Juice Detox
This is a popular detox that is used as an effort to drop a few pounds. This recipe includes a mixture of lemon juice, maple syrup, cayenne pepper, and water. Just like apple cider vinegar, this mixture is extremely acidic, therefore increasing the probability that you will develop tooth decay. Another problem with it is that this 10-day cleanse only includes liquids. Without chewing solid food, you aren't producing enough saliva to fight off cavities, gum disease, and acid erosion.
Sparkling Water
It is becoming more popular to sip on sparkling water. This is a great alternative to drinking soda, but it isn't completely risk free. Sparking water is acidic, so it creates a low pH environment in your mouth. This weakens the enamel and increases your risk for tooth decay.
Kombucha
This is a fermented tea that has benefits including detoxification, improved digestion, immune system stimulation, arthritis relief, and cancer prevention. The problem is that kombucha is acidic, and store-bought brands often contain a lot of added sugar. This means cavities and other oral health issues.
Activated Charcoal
Many new oral hygiene products contain activated charcoal. The idea is that this ingredient absorbs toxins and stains, leading to whiter teeth and healthier gums. However, there isn't enough evidence to deem that activated charcoal products are actually effective at reducing discoloration. These products also tend to be too abrasive for the teeth. This causes the gradual wearing away of the enamel. In the end, they are better to avoid.
When you see a popular trend online, do your own research before trying it. This way, you can avoid some unpleasant consequences and keep your smile safe!
About the Author
Dr. Jeremy B. Jorgenson earned his Doctor of Dental Surgery degree from the University of Southern California and is committed to completing continuing education courses to keep his knowledge and skills sharp. Currently, he is a proud member of the American Society of Implant & Reconstructive Dentistry, American Dental Association, Academy of General Dentistry, California Dental Association, and Orange County Dental Society. For more information or to schedule an appointment at his office in Costa Mesa, visit his website or call (714) 424-9099.