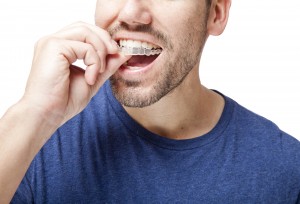 We'd like to suggest that you add one more person to your holiday shopping list… You! Now is the best time of year to treat yourself to that straight smile you've always wanted. Not only because we are in the midst of the holiday season, but also because Advanced Dental Care is offering an Invisalign special. During the month of November, you'll receive $1000 off your Invisalign treatment. So, if you are looking for Invisalign in Costa Mesa, look no further than Advanced Dental Care.
What is Invisalign?
You're probably familiar with traditional braces that use metal brackets and wires to move teeth into alignment. Invisalign is another type of orthodontic system that uses clear plastic mouth trays. Called aligners, Invisalign braces are made of BPA-free plastic that is smooth so you'll never have to contend with the abrasions or lacerations that metal braces can cause. And best of all, because these braces are clear, they are much more discreet than traditional braces.
Invisalign and Your Smile
Just like metal brackets and wires, Invisalign can correct a number of unsightly occlusions (bites). These include:
Crossbite—one or more of your upper teeth fall inside your lower teeth when you bite together
Open bite—front teeth that do not overlap vertically and leave an opening between your teeth
Overbite—when the upper front teeth protrude over the lower front teeth to the extent that your lower front incisors are hidden
Underbite—lower teeth protrude past the upper front teeth
In addition, orthodontic treatment with Invisalign can correct rotated (crooked) teeth as well as teeth that have wide gaps between them.
Receiving Invisalign in Costa Mesa
Your new smile begins with a consultation with Invisalign Costa Mesa dentist Dr. Jeremy Jorgenson. The two of you will discuss the details of your treatment and the changes that you would like to see happen to your smile. Your Invisalign treatment plan will be based on this discussion as well as information gathered through photographs, x-rays and impressions of your teeth. Then, Dr. Jorgenson will work with the Invisalign lab to create aligners that systematically move your teeth into proper alignment. Each pair of aligners—one for your upper arch and one for the lower—will be worn for two weeks. Total treatment time usually runs around 12 to 24 months depending on your particular orthodontic needs.
Invisalign Advantages
While you wear your Invisalign aligners, you'll be able to enjoy your regular diet and maintain your routine oral hygiene care at home. This is because the aligners are removable for eating and brushing and flossing.
Call Our Office Today
Take advantage of the special at Advanced Dental Care and save $1000 on your Invisalign treatment! Contact our office today.