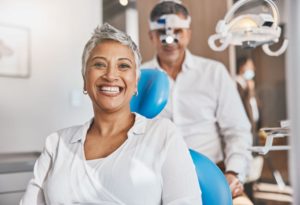 Are you eager to replace your missing teeth with dental implants? They are the best way to rebuild lost dentition and reclaim a strong, healthy, and confident smile! However, they can only live up to their potential if your treatment is performed by a qualified professional. How can you find the best implant dentist for you? Read this blog post to discover helpful tips.
Consider the Team Approach
Some general dentists are eager to advertise that they perform start-to-finish dental implant treatment. Many of them are very good at what they do. However, patients are often more comfortable if they have a team of experts working together to replace their lost teeth.
For example, you may choose to look for a practice that features both general dentists and specialists. An oral surgeon may place your implants for you, and then a general dentist can design your new teeth. This team-based approach ensures that you are receiving truly top-quality care during every stage of your treatment.
Ask Questions about Technology and Comforts
Technology plays a large role in dental implant treatment. For example, you will likely need to undergo a CBCT scan prior to your surgery so your care team can precisely plan all the details of your procedure. If a practice does not have an in-house CBCT scanner, you may have to make a trip elsewhere to get the necessary images taken.
You should also ask what your dental team will do to make you comfortable throughout your treatment. Some practices offer sedation to help patients relax during major surgeries. This can be especially valuable for anyone who is nervous about treatments or who finds it difficult to sit still for extended periods of time.
Read Reviews
Have previous patients had a positive experience with the dental practice that you are considering? A quick Google search can help you learn what others have thought about the team in question. You can learn if they provide comfortable treatment, if they are courteous and polite, and if other patients have been satisfied with the outcomes of their treatments.
Know What to Avoid
Sometimes, knowing what to avoid can be just as valuable as knowing what to look for in an implant dentist. For example, while you want to find someone who charges fair prices, you should exercise extreme caution if you come across anyone who is offering "cheap" dental implants.
You should also not commit to treatment with anyone who does not make you feel respected. You should have a dental team that genuinely cares about your thoughts, concerns, and preferences.
It may take a bit of time to search through your implant dentist options. Hopefully, the tips in this article will steer you in the right direction!
Meet the Practice
Dr. Jeremy Jorgenson is a proud member of the American Society of Implant & Reconstructive Dentistry. He works closely with our in-house oral surgeon to provide top-quality, start-to-finish dental implant services. Our entire team is committed to creating a positive experience for each and every patient. To find out if we might be the right implant dentist for you, get in touch with us at 714-242-9099.