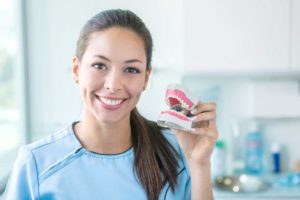 If you've recently started wearing dentures, you're probably pretty excited to have a complete and functional smile once more! However, it now falls on you to maintain your new smile and protect it from any potential issues. Here are a few bad habits your dentist thinks you should avoid if you care about preserving your dentures for the foreseeable future.
1. Neglecting Your Oral Hygiene
Just because you've gone and had your lost teeth replaced doesn't mean that you shouldn't care for your new smile! One of the most common things that people forget to do while wearing dentures is to brush daily, floss, and use an antibacterial mouth rinse. These important habits will prevent plaque and tartar from building up on your dentures and making them dirty and unpleasant to wear. Most dentists recommend brushing your dentures at least twice a day, preferably after a meal. Just keep in mind that some toothpaste is abrasive and can potentially scratch the acrylic material of your dentures.
2. Not Wearing Them Regularly
Dentures are designed to be worn, so needless to say, if you aren't wearing them consistently, they might become disfigured, dried out, or otherwise compromised. Plus, if your dentures are new, wearing them often will help your mouth to become accustomed to them sooner. It's also worth mentioning that even though dentures need to be worn regularly, you should still take them out before going to bed in order to give your mouth a much-needed break!
3. Not Cleaning Them Often or Properly
Dentures also need to be specially and regularly cleaned when they aren't being worn. You should do this carefully; don't use abrasive toothpaste, a hard-bristled brush, or hot water, as all of these have the potential to damage your dentures. To properly clean your dentures, simply rinse or soak them in lukewarm water or a denture cleaning solution and then brush them very gently.
4. Trying to Repair Them Yourself
As tempting as it might seem to fix minor breaks or make small adjustments yourself, it's always going to be in your best interest to see your dentist if there's an issue with your dentures. Most dentures have complicated designs, and sometimes even the slightest incorrect adjustment can create problems. Your dentist has the skills and tools to quickly address issues without jeopardizing your restoration.
5. Skipping Dental Checkups
You should continue to visit your dentist for routine preventive care if you wear dentures. Your dentist can monitor your oral health and your restoration and ensure that problems are quickly treated before they have the chance to worsen!
About the Author
Dr. Jeremy B. Jorgenson received his DDS from the University of Southern California and has proudly served patients and families in the Costa Mesa, CA community for several years. Dr. Jorgenson is a member of several professional dental organizations including the prestigious Academy of General Dentistry. His practice offers a wide range of services including restorative options such as dentures. If you have any questions about the article or would like to schedule a visit, you can contact the practice online or over the phone for assistance at (714) 424-9099.