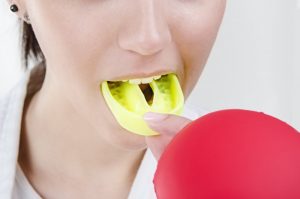 Have you ever worn a mouthguard during physical activity before? If not, you're not being as safe as you could be. This plastic tray worn over the teeth is designed to protect against harmful contact with another person or hard object during sports. But do you need a mouthguard for all sports? Let's take a closer look to answer that question and more you may have about mouthguards.
How Common Are Oral Injuries in Sports?
Dental injuries in sports are more common than you might think. According to an issue of the Journal of the American Dental Association, 13-39 percent of all dental injuries are related to sports. It's estimated that 200,000 orofacial injuries are prevented a year by wearing mouthguards.
Do You Need a Mouthguard for All Sports?
The American Dental Association recommends wearing mouthguards for not only all contact sports, but even physical activities where contact with another person may not occur, such as:
Surfing
Cycling
Gymnastics
Skateboarding
This is because there is always a chance of injurious contact with the ground or another hard surface.
What Are the Types of Mouthguards?
There are three main kinds of mouthguards:
Over the counter. These plastic trays come pre-formed in most pharmacies or sporting goods stores. They are designed to be one-size-fits-all, which unfortunately means they don't fit that well and don't provide much cushioning against injuries.
Boil and bite. You boil these guards in water, then bite into them to get them adjusted to the shape of your teeth. Although they're better than their pre-formed counterparts, they're still not as protective as custom mouthguards from your dentist.
Custom-made. Your dentist will take impressions of your bite and send them off to a dental lab, where your durable yet comfortable custom mouthguard is crafted. Because they fit you and only you, they provide the highest level of protection possible. They are the most expensive, but they are definitely worth the investment.
How Long Do Mouthguards Last?
Ideally, you should replace a mouthguard after each season. Over time they can get worn down, lessening their effectiveness. This is especially important for younger patients, as their mouths are still developing and changing over time. Many professional athletes get fitted for a new mouthguard at their biannual dental checkup.
While you may not think you need a mouthguard for every sport, it's much better to be safe than sorry. You can never be too careful when it comes to your dental health.
About the Author
Dr. Jeremy Jorgenson earned his Doctor of Dental Surgery from the University of Southern California. His professional affiliations include the Academy of General Dentistry, the American Dental Association, and the Orange County Dental Society. His practice in Costa Mesa, CA provides custom mouthguards to protect your pearly whites from sports injuries. To learn more, click here or call (714) 424-9099.