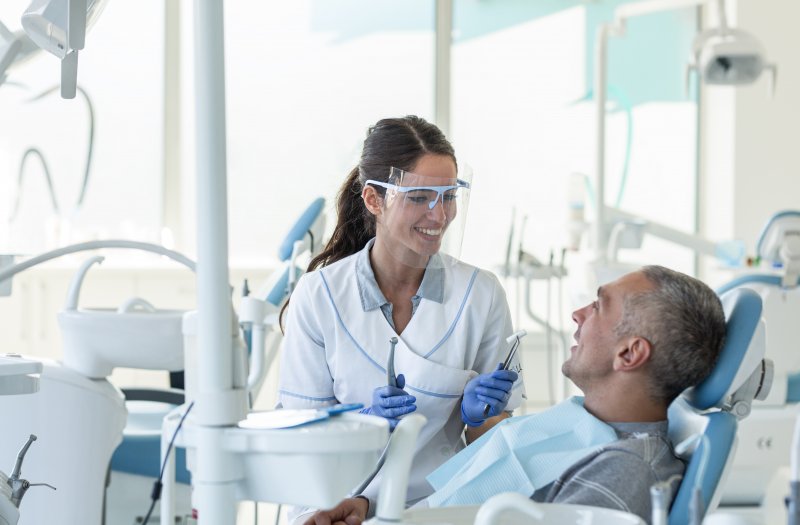 From getting groceries to connecting with loved ones, the current pandemic has impacted virtually every aspect of our lives. As the transition out of quarantine and into the "new normal" begins, infection control is at the forefront of everyone's mind. Fortunately, your dentist in Costa Mesa has implemented thorough sanitation standards put forth by the Centers for Disease Control and Prevention long before 2020. In fact, a large part of their training and education was focused on it! However, in light of the current pandemic, your dental team is introducing additional protocols to ensure their patients' safety during COVID-19. Interested to know what they are? Keep reading!
Significant Social Distancing Measures
Since the start of the pandemic, the experts at the CDC have been adamant about the importance of social distancing. In fact, they believe that implementing the 6-foot distance has prevented up to 185,000 deaths! With that in mind, your dentist is re-designing their daily operations to make social distancing a practical reality. Therefore, you can expect to see the below measures enforced at your next appointment:
Contactless greetings (i.e., a friendly wave, a congratulatory air high-five, etc.).
Virtual waiting rooms that allow you to check-in from your phone.
Spaced out seating in the physical waiting room.
One-way traffic signs to safely guide patients throughout the office.
Extensive Sanitation Practices
Pre-COVID-19, dental teams would wash their hands, put on a face mask, and apply a new set of gloves before your appointment. While each of these measures continue to play a crucial role in proper infection control, dentists across the U.S. are implementing additional sanitation practices in light of the current pandemic. Some of these measures include:
Asking patients to rinse with an anti-microbial mouthwash before their appointment.
Placing hospital-grade hand sanitizing stations throughout the office.
Cleaning after every appointment.
Conducting a deep cleaning each evening.
Using CDC-approved instrument sterilization.
Introducing advanced chairside suction and air purifiers.
New Appointment Protocols
Although back to back procedures were routine before the pandemic, your dentist is implementing new appointment protocols to make social distancing a practical reality and limit the number of times patients leave their home for visits. Therefore, you can expect at-risk patient hours, family-friendly scheduling, expanded patient appointments, and teledentistry options!
Additional Personal Protective Equipment
Daily, your dental team comes into contact with blood and saliva, which can carry potentially harmful bacteria and viruses. To prevent this from entering their body or spreading to other patients, they use personal protective equipment. However, the Occupational Health and Safety Administration is currently recommending that dentists use face shields, disposable coats, and even shoe coverings to keep themselves and their patients safe.
Navigating life in a pandemic can be anxiety-inducing, but your visit to the dentist shouldn't be! Therefore, your dental team is dedicating their time and resources to ensure you can safely get the oral care you need during the current pandemic.
About the Practice
From routine cleanings to dental implants, the team Advanced Dental Care is dedicated to delivering world-class care that is second to none. Backed by their talented staff, Dr. Jeremy B. Jorgenson, Dr. Soraya Safi, and Dr. Kevin Coppelson use their extensive experience and passion for dentistry to provide personalized care at their convenient location! Before typing "safe dentist near me" into Google, visit their website or give them a call at 714-424-9099.