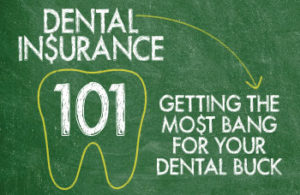 Can you believe that there is only a few weeks left in 2017?!  This year has really flown by.  We wanted to take a minute to remind you that dental insurance benefits do not roll over.  This means that the annual benefit you receive from your insurance company must be used before 12/31/17 or you will lose the money.  This money, known as your annual benefit, is what you get in exchange for the monthly premium you pay for your insurance.  It is also the total amount each year that your dental insurance will ever give you.  Essentially, you are paying for something that you will not be able to use after the end of this month.
What does my insurance cover?
Not only should you be seeing your dentist every 3-6 months to maintain optimal health and to prevent more severe and expensive dental conditions, but also because it could cost you absolutely nothing to do so!  Most basic dental insurances cover at least one to two dental exams and cleanings per year at 100%, meaning no cost to you.
Other necessary treatment is often covered at a percent of the total cost.  That's where we can help!  We can help you determine what treatment, if any, you might need, and also how much your insurance will pay on your behalf.  Keep in mind that once you develop a dental condition, the chances that the condition will resolve on its own or become less painful are highly unlikely.  This is why preventative visits are so important.
We are in-network with almost all PPO dental insurances and can help you determine if you have any remaining benefit you can use before you lose it.  Just call (714) 424-9099 for a free complimentary breakdown of insurance benefits today.  Have your insurance company name, the subscriber's name, the subscriber's date of birth, and either the member ID or SSN handy when you call.  We will request all of the necessary information from your insurance company and can let you know how much money you have left and what it can be used on.
Common PPO Dental Insurance Plans
Delta Dental                                          
Aetna Dental                   
Metlife Dental                            
Cigna Dental                                                
Humana Dental              
Guardian Dental                                 
Blue Cross Blue Shield (BCBS)    
Anthem Dental                                        
Principal Dental                 
Ameritas Dental                              
Liberty Dental                        
United Dental                      
Operating Engineers                       
Even if you don't have dental insurance and are exploring plans for 2018, we can help with that too!  We will take a basic dental history from you and then review your needs and wants with dental insurance to help you choose the plan that will give you the most benefit.  Our friendly and knowledgeable staff is standing by 24/7 on our live chat at www.mycostamesadentist.com or by phone at (714) 424-9099.
Advanced Dental Care is a full-service dental office in Costa Mesa, CA.  Located right near the 405 freeway, the 73 freeway, and the 55 freeway.  Available for evening, Saturday, and emergency dental appointments.  Call now (714) 424-9099!