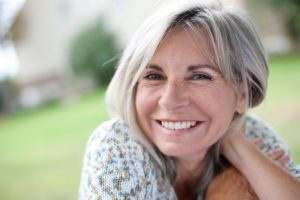 From the moment you were born, there's one smile that has always been there for you—mom's. Through the ups and downs, she has guided you and loved you, and her smile could help lift your spirits when you're feeling low. Even though you've grown up, you likely have found that you still need your mom, even if it's just for moral support. In other words, you need her strong, powerful smile to stay healthy for a lifetime.
Mother's Day is not only an opportunity to celebrate and thank your mom for everything she's done for you, but it also starts National Women's Health Week. It's a great time to remind your mom to take care of herself so that you can enjoy her smile for many more years.
Brushing and Flossing Every Day
Unfortunately, as your mother gets older, it can become all too easy to forget or neglect the little things to keep herself well. Whether your mom is busy or has loads of time on her hands, she may not always remember to brush and floss her teeth. These short, but important, habits keep damaging plaque from building up in her mouth, preventing major problems like gum disease, which increases the likelihood of heart disease and Alzheimer's.
Visiting the Dentist at Least Every Six Months
Although at-home oral care is essential, keeping up with preventive dental visits is equally vital. Your mom's dentist can keep a close eye on her smile's health and identify and treat infections as early as possible, reducing her risk of more serious problems. If she struggles with gum disease, she may need to see the dentist more frequently than six months to control the infection.
Drinking Plenty of Water
Many, many studies have found that drinking water can benefit heart health as well as digestion, but water also helps your mom's smile stay healthy for the long term. Water has no sugar, washes away bacteria and food debris, neutralizes acids in the mouth, and keeps it properly moisturized. Although other beverages are okay every now and then, try to make sure that she drinks plenty of water throughout the day.
No matter how old you become, there's a special place in your heart for your mom and her loving smile. So make sure that you not only express appreciation for her this Mother's Day but also check in with her to see if she's taking care of herself so that you can have her and her smile around for a long time to come.
About the Practice
At Advanced Dental Care, we have the privilege of the expertise of five talented dentists on our staff. Although we have the capability and training to treat complex issues, we would rather prevent them from happening in the first place or treating them as early as possible. To schedule an appointment with us, you may visit our website here or call our Costa Mesa office at 714-424-9099.