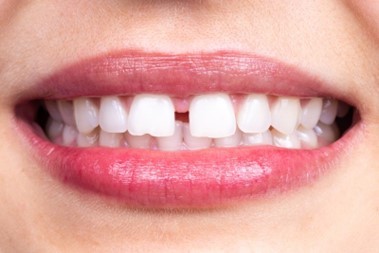 Having a gap between your front teeth is a common issue called diastema. It can affect your confidence and self-esteem. Cosmetic dentists offer several treatments to fix this issue, including dental bonding, veneers, and orthodontic treatment. These treatments are safe, effective, and can provide long-lasting results. Read on to learn how a cosmetic dentist can find the best solution for you and achieve the smile you've always wanted.
6 Causes of a Diastema?
A diastema is a gap between teeth, usually larger than 0.5 millimeters, which can occur between any two teeth. Although common in children, it may not necessarily close on its own. The gap may be caused by various factors, such as:
Labial frenum – The tissue that extends from the upper lip to the gums above the upper front teeth, known as the, can cause an oversized gap between the two front teeth.
Poor oral habits – This includes smoking or biting into hard objects.
Tooth size – The size of the teeth in relation to the jaw, including missing or undersized teeth, can also cause a diastema.
Tooth loss – Specifically losing your primary (baby) teeth can leave a gap between your two front ones.
Untreated gum disease – This infection of the gums can lead to a gap between your teeth due to gum recession, shifting teeth, or tooth loss.
Incorrect swallowing reflex – An incorrect swallowing reflex can cause a gap between the front teeth because it can exert pressure on the front teeth, which can lead to them gradually moving apart.
How Are Diastemas Treated?
Identifying a diastema is typically easy and can be done during a routine dental check-up. Treatment is not always required, especially if it is caused by natural factors like jawbone size or baby teeth loss. Although a diastema may not always require treatment, it can increase the risk of plaque buildup, enamel erosion, and even gum disease if left untreated.
Diastemas can be treated using braces, veneers, or dental bonding. The choice of treatment depends on the patient's individual circumstances. While Invisalign is a commonly used orthodontic solution, veneers or dental bonding can also be effective alternatives.
More complex solutions like dental bridges, dentures, or implants might be necessary if the diastema results from missing teeth. Periodontal therapy is employed if gum disease is the root cause. Surgery is required in the case of an oversized labial frenum.
About the Practice
At Advanced Dental Care, patients have access to a comprehensive array of dental treatments and services, from preventative care to cosmetic and restorative procedures. Their experienced team of dentists and specialists are committed to providing personalized care and finding the best solutions for each patient's individual needs. In addition to routine checkups and emergency dental care, they offer treatments to close gaps between teeth, such as braces, dental bonding, veneers, and more complex procedures like bridges and implants. To schedule an appointment or to learn more about their services, visit Advanced Dental Care's website or call them at (714) 424-9099.