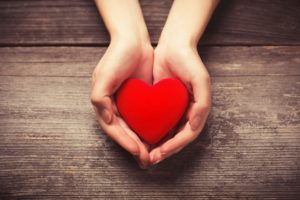 Now that it's February, you're probably seeing heart-shaped things everywhere. Not only is Valentine's Day right around the corner, but February is American Heart Month! It's the perfect time to take a moment and reflect on your cardiovascular health. One of the easiest ways to help keep your heart healthy is to start with your smile! Research reports that unhealthy gums can have a significant impact on the rest of your body and increase your risk of cardiovascular disease. Read on to learn more about how caring for your gums can benefit your heart.
Gum Disease
What do unhealthy gums look like? If you don't thoroughly clean your mouth every day, the built-up plaque and bacteria can infect the gums and cause periodontal (gum) disease. Initially, this bacterial infection causes easily overlooked symptoms like inflamed gums that bleed easily when brushing or flossing. However, if gum disease is left unchecked, it can become much worse. Your gums will become red and tender, and you'll likely have chronic bad breath. At this point, the bacteria can permanently damage your gums, your jawbone, and the connective tissues that help hold your teeth in place. In fact, gum disease is the leading cause of tooth loss in the US.
Linking Heart Health & Gum Disease
Studies show that gum disease can increase a patient's risk of heart attack, stroke, or other cardiovascular event by 20%. How can an infection in your gums influence your heart health? Research is ongoing, but experts believe there are two main culprits at fault for this connection:
Bacteria: The dangerous bacteria at the root of gum disease can potentially find its way into the bloodstream. If it were to travel throughout the body, it could infect the inner linings of the heart's chambers and valves.
Inflammation: The immune system naturally responds to infections like gum disease with inflammation. If gum disease goes untreated and this response is prolonged, the inflammation can spread throughout the body, potentially restricting the arteries.
Maintaining Great Gum Health
While gum disease is astonishingly common, a majority of cases are sill in the earliest stages (gingivitis). Thankfully, gum disease at this stage can be treated and even reversed relatively easily without any permanent damage. You may be able to do this yourself at home by improving your oral hygiene, or your dentist may recommend more frequent cleanings. Sometimes, they may recommend a deep cleaning (scaling and root planning) or antibiotic therapy to fully clear away the infection.
However, you may need more extensive periodontal therapy to manage severe gum disease and repair the damage. Periodontal therapy options like a gingivectomy, gum grafting, or osseous (bone) surgery can help stop the infection and restore your gums and jawbone. Be sure to see your dentist every six months for a dental checkup and gum screening to make sure your gums are healthy. Remember, when you take steps to prevent gum disease, your smile and your heart will thank you!
About the Practice
The talented team of dental professionals at Advanced Dental Care is dedicated to caring for the smiles of Costa Mesa and the surrounding communities. Thanks to their combined experience and training, they're able to provide practically any dental treatment you need under one roof. This includes a wide variety of gum disease treatments, all performed in-office by our periodontist Dr. Joseph Yang. If you're concerned about the health of your gums, don't hesitate to contact them via their website or at (714) 424-9099.