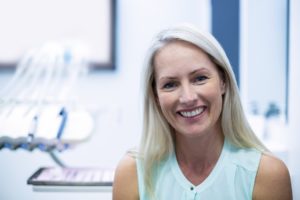 If you missed your chance for braces as a teen or your teeth have moved some over the years, it's easy to feel embarrassed by alignment issues. As an alternative to metal brackets and wires, many adults are choosing Invisalign to fix gapped or overcrowded teeth. The clear aligners are a discreet solution, which is partly the reason 1 in 5 orthodontic patients is over the age of 18. Although you'd like to improve your smile, you might wonder, am I too old for Invisalign? No! You're never too old to invest in a healthy, attractive smile; however, there are a few things you need to know before getting started.
1. Invisalign is Different
Traditional braces rely on brackets and wires to pull the teeth into position. Invisalign differs because it doesn't use the same method. Instead, custom-made clear aligners are worn over your teeth to apply continual pressure to reposition them. The aligners are worn for at least 22 hours per day, switching to a new one in the series weekly.
2. Age Doesn't Determine Your Candidacy
Your age isn't a factor when determining your candidacy for clear aligners. In fact, Invisalign for seniors is quite possible. Your dentist will examine your teeth and gums to ensure your smile is healthy while also assessing your bite and alignment concerns. They'll take the time to learn more about your lifestyle and oral health habits to determine if Invisalign in Costa Mesa is right for you.
3. Adults are Often Better Patients
Although clear aligners can be used for teens, adults often make better candidates for Invisalign because they have more self-motivation. They are also more likely to follow their treatment plan correctly to ensure there aren't any unexpected complications along the way.
4. Your Treatment May Take Longer
Patients of all ages prefer Invisalign because it provides quick results. Generally, most patients are finished with their series in about 12 months, but several things affect the duration of the treatment, like the complexity of your orthodontic needs. Your age can also influence the process because you've already finished growing. You will also require a retainer once you complete your series to prevent your teeth from moving back into their previous positions.
5. More Financial Freedom
Older adults are often more financially stable, which means they are likely to have the means to pay for clear aligners. Many dental insurances can be used to offset the cost of adult Invisalign in Costa Mesa to lower the amount you'll need to pay. Your dentist will offer several solutions for any remaining balance.
Don't put a healthy, beautiful smile off any longer. Contact your dentist today to see if you're a candidate for Invisalign.
About Dr. Kevin Coppelson
Dr. Coppelson earned his dental degree at the University of Southern California and has completed advanced training in oral and maxillofacial surgery, IV sedation, and orthodontics. He can treat the most complex oral health needs. If you're ready to invest in Invisalign, contact our office today to schedule your consultation.