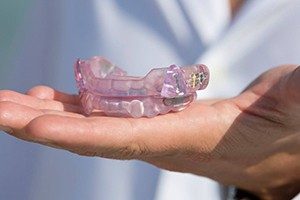 Did you know that sleep apnea is a hidden health crisis in the United States? It's estimated that sleep apnea afflicts nearly 30 million men and women across the U.S. Reports also indicate that the condition accounts for $87 billion of lost productivity each year. Of course, this doesn't even go into the health concerns you should know about if you have sleep apnea in Costa Mesa.
Instead of letting it wreak havoc on your overall health, consider these four reasons why you should get a dental device specifically for treating sleep apnea.
Improvements in Sleep and Snoring
It's no surprise that a dental device customized to open your airway will improve the quality of your sleep overall. However, what many people forget to take note of is the improvements it makes on your snoring. Those with sleep apnea tend to also exhibit very loud snoring that disturbs those around them. This snoring can be so severe that it forces people that would otherwise be sharing a bed with them out of the room entirely. Obviously this isn't the patient's fault, but it's just another benefit to keep in mind should you be weighing your options.
Effective as an CPAP Alternative or Add-On
Speaking of options, the continuous positive airway pressure machine is often touted as the gold standard for sleep apnea treatment. Unfortunately, the device is also coupled with many compliance issues; patients often feel claustrophobic while trying to use it. Oral devices feel very similar to nightguards and require no facial coverings in order to use. For some, an oral appliance can be used in tandem with a CPAP machine turned to a lower setting. Regardless, it can make the lives of CPAP machine users a whole lot simpler.
Non-Invasive and Affordable
In more severe sleep apnea cases, people may consider surgery as a solution. However, it's more likely than not that even if there are noticeable benefits after surgery, the same tissue that was causing the airway blockage will reappear after a certain period of time. Additionally, surgery for sleep apnea can be very costly, and in some cases it won't even be worth the cost if the problem only resurfaces later. A custom sleep apnea dental device is far more affordable; plus if it doesn't meet your standards, there's no reason to need to go back under the knife to make adjustments.
A Quick and Simple Transition Period
Finally, unlike traditional sleep apnea treatments, dental devices are much easier to get started using. By simply wearing the appliance, people often experience noticeable improvements in sleep quality within the first week. Some patients even report improvements after just a few days! When you can get the sleep you need, it's amazing what a difference it can make on your quality of life.
Ready to take back your night's sleep? Schedule an appointment with a dentist in Costa Mesa to get your very own sleep apnea oral appliance!
About the Author
Dr. Jeremy B. Jorgenson earned his DDS degree from the University of Southern California. His office provides sleep apnea therapy in order to help patients obtain a better night's sleep. If you're experiencing sleep apnea symptoms and don't know where to turn, feel free to contact his practice through his website.