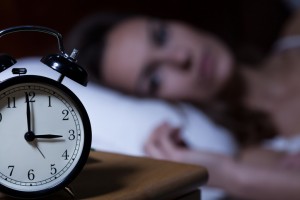 You wake up in your chair and look up at your co-worker's concerned face. This is the third time today that they've spotted you napping at your desk. You don't have a good excuse because you don't have one at all. You went to bed at a reasonable hour, but when you woke up, it felt like you had been up all night. What could be causing this? This is actually a common symptom of sleep apnea, a condition that affects about 20 million Americans every night. Dr. Jeremy Jorgenson wants you to know why it's so important for you to find out if you have sleep apnea, and how it can be treated.
What Is Sleep Apnea?
Sleep apnea occurs when the soft tissue in a patient's mouth and throat obstructs their airway while they sleep. The airway can become completely blocked, and this can happen many times over the course of the night. It does not always wake a person up, so many people are completely unaware that they have sleep apnea. They just notice that no matter how much they sleep, they never feel rested. Some other common symptoms are:
Loud snoring
Insomnia
Waking up gasping or out of breath
Morning headaches
Depression
High blood pressure
The effects of this condition go way beyond simply being exhausted, as this oxygen deprivation is very stressful on the body. If you or your loved ones are experiencing any of these symptoms, you need to take action.
Why Is It Important to Treat Sleep Apnea?
Dr. Jorgenson and our team diagnose and treat patients as a whole.  Sleep Apnea is a medical condition that can sometimes be treated with a dental oral appliance, and that's where we come in!  Left untreated you could experience serious medical conditions such as heart attack, stroke, atrial fibrillation, high blood pressure, metabolic syndromes, liver problems, and even sudden death!
What You Can Do About Sleep Apnea
Nearly 80% of the people with sleep apnea go undiagnosed, so the first step is to actually figure out if you have it or not. Dr. Jorgenson works closely with local sleep doctors and can refer you to a specialist to get a proper diagnosis. They may have you perform a sleep study either in a lab or at home, and it will give them enough information to know whether you have sleep apnea or not. If they believe that you do, you can then focus on treatment.
Common treatments for sleep apnea include surgery or a CPAP machine, but many patients prefer a less invasive approach. One of the simplest ways to treat sleep apnea is with oral appliance therapy.
This would involve you wearing a small device similar to a mouthguard to bed every night. It would help alleviate your sleep apnea by gently shifting your jaw forward, preventing the soft tissue of your mouth and throat from relaxing into your airway. Every oral appliance is custom made for each patient out of strong and flexible materials. This assures a comfortable fit, and allows a patient to speak and drink normally while wearing one. Oral appliances have proven to be very effective, as 95% of the people who regularly use one have seen a dramatic improvement in their sleep quality. They are so reliable that oral appliances are often covered by medical insurance.
How Can I Get One?
You can get an oral appliance with Dr. Jorgenson if he and your sleep doctor think it would be your best solution. The first step to start getting the rest you need today is to simply call us, text us, or shoot us an email!  We'll be able to guide you through both the diagnosis and treatment, and will get you sleeping soundly in no time.