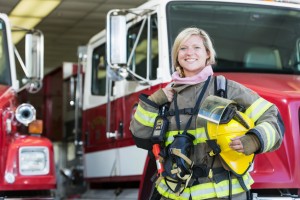 This June, your Costa Mesa dentist and the team at Advanced Dental Care want to show their appreciation for the public service employees who make our community run. And what better way to make you happy than by helping you smile brighter? If you're a teacher, police officer, firefighter, government official, or any other type of public service employee, Dr. Jeremy Jorgenson wants you to enjoy free teeth whitening trays during June! All you have to do is schedule your checkup and cleaning, and we'll create custom-fit trays to help you smile bigger and brighter than ever before.
June Means Free Whitening for Public Service Employees
Advanced Dental Care offers Ultradent Opalescence Teeth Whitening for professional brightening results, achieved from the comfort of your home.  Depending on the strength of the bleach you choose, you can wear your trays for as short as on hour or overnight.  It's simple!  Just fill your custom trays with the special bleaching gel and insert them while you watch your favorite TV show or, if overnight, before bed. The solution begins to work its magic immediately, and you'll begin enjoying your beautiful, white smile in no time.  With custom bleaching trays, you control how often and how long you choose to whiten your teeth.  Custom trays are an excellent option for maintaining a white smile in-between dental visits.The benefits of professional teeth whitening include:
Professional teeth whitening yields the most dramatic results possible

Ultradent Opalescence Whitening is associated with less sensitivity than other professional whitening treatments

Custom-fit trays hold bleaching gel right against tooth enamel

Enjoy a more youthful, confident smile without undergoing costly cosmetic treatments

Brightening results can last for months before needing minor touchups
And the biggest advantage of all? This month, Costa Mesa's public service employees can enjoy their teeth whitening trays for FREE with our exciting special!
About Advanced Dental Care's Teeth Whitening Special
To benefit from this wonderful offer from Advanced Dental Care, just schedule your appointment  for a checkup and cleaning, and let us know you're a public service employee interested in free teeth whitening when you do.  We're available 24/7 by phone, email, text, and on social media.  We'll be prepared when you come in for your visit. You and Dr. Jorgenson will discuss your professional teeth whitening, and he'll take impressions of your teeth to create your custom-fit trays that very same appointment.
Once the plastic trays have been created, you'll just need to purchase your bleaching gel to begin your treatment, and it won't be long before you're enjoying a brighter, more confident smile. It's our small way of saying thank you for all you do for our community!
Schedule Your Appointment Today
Don't wait to schedule your appointment to receive your free teeth whitening trays ($150 Value) from Advanced Dental Care! It might fill our schedule pretty tight, but we'd love to fit every public service employee in Costa Mesa with teeth whitening trays in June. Let us help you reveal your very best smile with professional teeth whitening — you deserve it! Click here to request your appointment online.