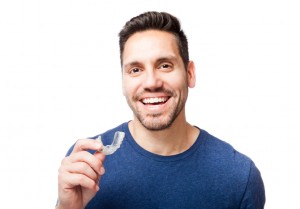 Straightening your teeth with Invisalign in Costa Mesa has never been more affordable. Right now, Dr. Jorgenson at Advanced Dental Care is offering $500 off any treatment with the clear braces system. Both express and full-treatment cases are eligible for the significant discount! If you've been considering orthodontics, don't wait to contact our office. This special will expire at the end of this month! Take advantage of significant savings for the sake of your wallet — and your smile.
All About Invisalign
Maybe you have some questions about clear braces, like how does Invisalign work? And what's the difference between Invisalign and traditional braces? Or perhaps you'd just like to know if you're a good candidate for the Invisalign system. Dr. Jorgenson has the answers on your Costa Mesa Invisalign treatment.
How Does Invisalign Work?
The Invisalign system works using clear aligners that place focused pressure on different parts of your teeth throughout treatment. You wear each aligner for two weeks before advancing to the next in the series. The Invisalign treatment is largely self-directed, with periodic visits to the dentist to ensure everything is progressing as it should. The average Invisalign treatment time is one year.
Comparing Invisalign with Traditional Braces
The differences between Invisalign and traditional metal braces are significant. They include…
Invisalign trays are removable

Users can brush and floss without significant barriers created by metal brackets and wires

No modifications to the diet are necessary with Invisalign

Invisalign is practically invisible

Clear, smooth plastic will never rub blisters in the cheeks, lips, and tongue

Emergency trips to the dentist for a broken bracket or loose wire are never necessary

Invisalign is completed faster and requires fewer visits to the dentist than with traditional braces
Adults and older teens who wish for a subtle orthodontic solution agree: Invisalign is the clear choice.
Is Invisalign Right for Me?
You'd like to benefit from clear braces, but is it really a good choice for improving the alignment of your unique teeth? Chances are good that you're an ideal candidate for the Invisalign treatment. The system corrects the most common orthodontic issues, including crowded and gapped teeth as well as underbite, overbite, or crossbite.
Patients should be in good tooth and gum health before undergoing orthodontic treatment.
Take Advantage of Our Special Offer Today!
Don't miss out on Advanced Dental Care's $500 off Invisalign! Clear braces are more affordable than ever in Costa Mesa. Please get in touch with us to discuss your Invisalign treatment today.